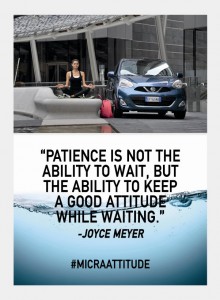 NISSAN'S innovative use of social media is stepping up a gear with a major pan-European competition, inviting users to share inspirational images on Pinterest and Facebook.
The contest, which has been launched across Europe, supports the launch of Nissan's New Micra, which brings a bold new look, innovative technological features and expanded personalisation options to one of the most significant models in Nissan's history.
New Micra's comprehensive makeover, which includes a more assertive, dynamic design as well as technology such as a new touchscreen communication centre, Google Send-to-Car and an audio USB input, reflects the values of its target audience – modern, connected individuals who challenge convention, seek out new experiences and are prepared for anything.
The Pinterest competition is designed to engage with our customers via social media and bring the 'Micra Attitude' concept to life visually. Supported by complementary activity on Nissan's Facebook and Twitter channels, the community will be invited to create Pinterest boards that celebrate their own Micra Attitude – whether it's inspired by people, quotes, design, products, places or activities.
David Parkinson, Nissan's general manager for social and digital engagement in Europe, said: 'The New Micra is a car with real attitude and a feisty outlook on life, and just like its owners, it attacks every day with style, intelligence and confidence.
'It's this Micra Attitude we want to explore on Pinterest. This competition celebrates their individuality and aims to really find out what makes Micra owners tick.'
To enter the competition, entrants have to create a pin board on the site and post 10 images that together sum up their attitude to life, each with the hash tag #MicraAttitude. Each contestant will pin eight of their own pictures with the remaining two being creative images of the new Micra re-pinned from the Nissan Europe Micra Attitude board. The aim is to create a pin board full of shared images that will inspire everyone who sees them.
Take inspiration
Supporting activity on Nissan's Facebook and Twitter platforms will share some of the best entries and encourage more people to either take part themselves, or just take inspiration from images.
The competition is up and running now and continues for six weeks until July 21. There will be three winners from each of the 12 markets taking part in the campaign, and each will receive a personalised Micra Prize which includes fashionable, technological and stylish items that reflect the customer's Micra Attitude.
For more details on the competition, visit www.nissan-europe.com, or one of the following Nissan social media sites: