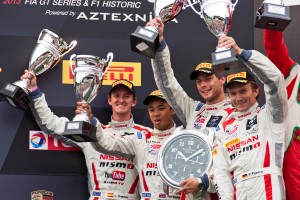 NISSAN'S all-gamer line-up of Lucas Ordonez, Jann Mardenborough, Wolfgang Reip and Peter Pyzera took a Pro-Am podium in the Spa 24 Hours today when they brought the No.35 Nissan GT-R Nismo GT3 to the chequered flag in third place in class and seventh place overall.
This result means that the driver's championship is now a Nissan 1-2-3 with Lucas Ordonez at the top of the table, followed by Peter Pyzera and Alex Buncombe. Nissan GT Academy Team RJN also retains the lead in the teams' championship.
The 2013 Spa 24 Hours will be remembered as a race of attrition with around 50 per cent of the starters failing to finish the race.
The No.32 G-Drive liveried Nissan GT-R Nismo GT3 sadly had a dramatic exit during the first hour of the race. Alex Buncombe made one of his trademark starts, moving up from 15th on the grid to eighth place after just two laps. On lap 13 as Alex went into Eau Rouge something broke on the left rear of the car and he was pitched into the tyre barrier at Raidillon.
Alex walked away unscathed but the race was over for the No. 32 GT-R, which will now be taken back to the UK for investigation.
The No.35 'YouTube' Nissan GT-R ran like clockwork throughout the 24-hour race. A stroke of bad luck during the night put the car three laps behind the leaders, which left the Nismo Athletes with a lot of work to do.
A scheduled brake change was completed by the team but when the car returned to the track the safety car came out and that gave other competitors the time to do their brake change during a safety car period. No amount of planning can avoid these situations so there was nothing for it but to race on and race hard so that's what they did!
An emotional week
It has been an emotional week for Lucas Ordonez so it was fitting that the Spaniard was behind the wheel when the No.35 GT-R took the chequered flag.
'This week has been tough emotionally,' he said. 'I lost my Uncle Carlos and then the terrible train crash happened in Spain. My Uncle was a big supporter of my racing so he has been on my mind a lot this week and of course I dedicate this podium to him. This is a great result for Nissan, for GT Academy, and for everyone involved in this programme.
'We took seventh place overall with an all-gamer entry so we have proved again that GT Academy works and I feel very proud. This was a tough race; just look at the results as only 50 per cent of the cars finished. I very much enjoy driving this car, in this team, with Nissan.
Jann Mardenborough has had a very busy weekend at Spa, the highlights being his second place finish in yesterday's final Formula 3 race and now a podium in the Spa 24 Hours.
'The car ran perfectly today,' said Jann. 'The pit stops were great and everyone drove a mature and sensible race so we were able to make steady progress. It's good to be back in the GT car.
'I'll admit now that I was a little anxious before the weekend about switching between F3 and GT but getting in the GT car felt like coming home. I'll have to work on getting used to sharing my car again though!'
'This is my first big podium and it has happened at Spa so it is an incredible feeling,' said Wolfgang Reip, who was the highest placed Belgian in the race.
Tough and competitive
'It was a very difficult race and I'm sure with better luck we could have won our class but so many things can happen during a 24 hour race. I'm very proud to have this trophy.'
'It's a great feeling when you realise that all of your hard work has paid off,' said Peter Pyzera. 'After winning GT Academy we join Nissan's driver development programme and we are pushed very hard to make the most of our abilities. To take this podium finish shows us that we are doing it right.'
'Motor racing is a tough, competitive sport and the fact that almost 50 per cent of the cars didn't even finish this race is testament to the hard work put in by Nissan GT Academy Team RJN,' said Darren Cox, Nissan's Director of Global Motorsport.
'It's almost getting monotonous to write good news stories about our GT Academy winners but this one ranks as one of our most rewarding and hard-earned results.'