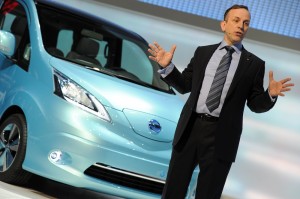 NISSAN has announced that Paul Willcox is to leave the company.
Paul, pictured, will leave his current position as senior vice president, sales and marketing for Nissan in Europe to pursue other professional opportunities.
Paul joined Nissan in 1992 after spending four years with Peugeot GB. Since then, he has held a number of positions across sales, marketing and corporate planning in the UK and Europe.
He was appointed vice president sales and marketing for Nissan Europe in 2005 and after three years, returned to Nissan Motors GB as managing director.
Paul will be replaced by current vice president, Guillaume Cartier, who will take up the position from September 1.
Cartier joined Nissan in 1995 and has served in sales and marketing roles in Nissan France, Nissan GB and Nissan Nordics before leading sales operations at the European level.
Cartier will continue to be based at Nissan International SA in Rolle, Switzerland.
A key contributor
Commenting on his appointment, executive vice president and chairman of Nissan's Africa, Middle East, India and European region, Trevor Mann, said: 'Throughout his career, Guillaume has been a key contributor to the company, including leading Nissan in Europe to its best-ever market share last year.
'His appointment comes as we're making strong strides towards our goal of becoming the number one Asian brand in the region. We are confident that under Guillaume's leadership, we will aggressively expand our European presence.'