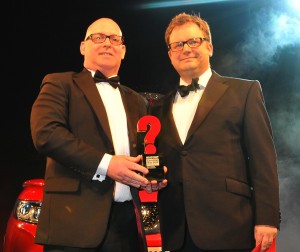 THE ALL-NEW Qashqai, the car that redefines the crossover sector, has been honoured with one of the motoring industry's highest accolades – the What Car? Car of the Year Award for 2014.
Like its multi-award-winning predecessor, the all-new Qashqai has been designed, engineered and will be built in the UK. It saw off strong competition to win both the Small SUV (£16,000-£22,000) category, and the overall 2014 What Car? Car of the Year title.
The What Car? judging panel selected the Qashqai 1.5 dCi Acenta 2WD as its favourite model in the new range, praising its refinement, agile driving experience and low running costs. The panel also highlighted the new Qashqai's comfort, refinement and space, along with its clean engine range and sub-100g/km CO2 emissions.
What Car? Editor-in-Chief, Chas Hallett, added: 'The new Qashqai brings excellence and polish to a class of cars that was already brimming with talent and tempting buys. It has an interior worthy of its stylish looks, and it makes a fine family car. It's fantastic value for money and a very worthy Car of the Year.'
Jim Wright, Nissan Motor GB Managing Director, commented: 'We're thrilled that What Car? has named the new Qashqai as its 2014 Car of the Year. A huge amount of effort has gone into the design and engineering of the new car, and we're all extremely excited about creating the template for the second-generation crossover.
'As the What Car judges discovered for themselves, the new Qashqai is an unbeatable package with high equipment levels, great refinement and comfort and incredible attention to detail.'
The new Qashqai goes on sale on at the end of January with prices starting from £17,595. Building on the strengths of the ground-breaking original, the new model features a sector-best suite of technologies that bring maximum convenience, comfort and driver engagement to the crossover segment.
Industry benchmark
In a further cause for celebration, the new Nissan X-Trail scooped the What Car? Reader Award. It was voted the most-anticipated new car of 2014 by visitors to the What Car? website ahead of models such as the Jaguar F-Type Coupe and Porsche Macan. The new X-Trail goes on sale in the UK in July 2014.
This success comes as Nissan's Sunderland Plant celebrates its latest industry benchmark after making more than one million cars in two years.
The 2013 annual volume of 501,756 vehicles follows the 510,572 production in 2012 and means that, in total, 7,463,187 Nissan vehicles have been manufactured in Sunderland since 1986.
More than 286,000 of the cars built in Sunderland in 2013 were Qashqais, now in its eighth year of production and still the best-selling crossover in Europe. Total Qashqai production in the UK now stands at 1,752,232.