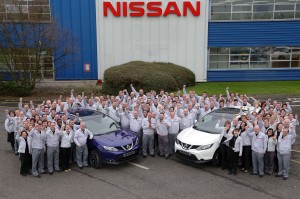 DEMAND for Nissan's award-winning Qashqai, the best-selling crossover in Europe, helped lift output at the company's Sunderland plant above 500,000 units for the second year in succession.
Nissan Sunderland Plant, the largest car-assembly facility in the UK, has produced more than one million vehicles in the past two years amid continued investment and new model launches from the site in the North East.
Kevin Fitzpatrick, Nissan's Vice President for Manufacturing in the UK, said: 'Building over a million cars in two years is a further sign of Nissan's growing brand presence in one of the most competitive markets in Europe.
'Exceeding output of 500,000 units for a second year is an even greater achievement given we combined this high volume whilst also starting production of the all-electric Nissan LEAF at the plant, along with the launch of the new Note, and replacing the most popular car we have ever made with the new generation Qashqai.'
In 2013, more than 286,000 of the cars built in Sunderland last year were Nissan Qashqais, now in its eighth year of production. Total Qashqai production in the UK now stands at 1,752,232 since 2006.
Production of the new generation Qashqai, which has been named Car of the Year by What Car?, will be marked with a launch event at Sunderland on January 22.
'Our workforce continues to set the benchmark for productivity and quality and I would like to thank and congratulate them all on reaching this latest milestone,' said Fitzpatrick.
Innovation and excitement
The annual production figures of 501,756 follow a year in which Prime Minster David Cameron visited the plant to mark the launch of the Nissan LEAF, and work began on a plant extension to enable production of the Infiniti Q30 from 2015.
Monthly production broke the 50,000 barrier in October for the first time in Nissan's 27-year history of manufacturing in the UK, with eight different model variants built across the calendar year.
The year ended with the unveil of the new generation Qashqai, the embodiment of Nissan's innovation and excitement and the key driver in the company's goal of becoming the top-selling Asian brand in Europe.