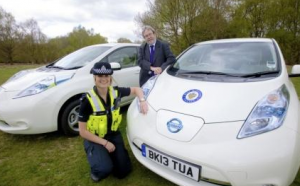 LOCAL criminals won't be the only ones charged after West Midlands Police (WMP) took delivery of 30 Nissan LEAFs in the UK's largest corporate LEAF deal to date.
Ten local policing units (LPUs) will run three 'diary car' LEAFs each: the cars will be used to attend pre-arranged meetings with victims of crime and locals who have contacted the police force.
Diary cars average 40 to 45 miles per day making the 124-mile range of the LEAFs perfectly suited for WMP's day-to-day needs.
After a successful trial by WMP Fleet Services last summer, the decision was made to order 30 LEAFs and spread them evenly across each LPU.
Feedback so far has been very positive, with police drivers praising the LEAF for its arresting looks and zero emissions when in use.
Dedicated charging points installed at each LPU will be used to charge the LEAFs, meaning officers won't have trouble finding leads. With the bill for a full recharge being a mere £1.75, costs are kept under control too.
Bob Jones, Police and Crime Commissioner for West Midlands Police, said: 'We welcome the new LEAFs, which fit in perfectly with the operational requirements of diary cars and will significantly cut our fuel costs while also reducing our carbon footprint.'
Prestigious institution
Barry Beeston, Nissan corporate sales director, said: 'It's fitting that the UK's largest corporate LEAF deal to date is with such a prestigious institution as the West Midlands Police.
'The LEAF is becoming ever more popular as fleet managers see the benefits of 100 per cent electric vehicles and massively reduced running costs. We're delighted to hear the police are already enjoying driving the LEAFs and we hope they're enjoying going after a new type of lead!'