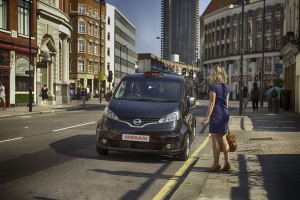 NISSAN has signed off the final design of its eagerly-anticipated NV200 London taxi.
The new taxi for the capital was signed off last week by Nissan's executive vice president and global product planning chief, Andy Palmer.
The Brit is incredibly excited about the new Nissan and thinks it will easily follow in the footsteps of other famous London taxis, despite it clearly being a Nissan product.
'I can tell you now you'll look at it and recognise it to be a traditional London taxi,' Palmer told Nissan Insider.
Last year Nissan showed off the new NV200 London cab destined for the capital's streets, but since then further work has gone into refining the look of the vehicle. That earlier taxi had a lot in common with the NV200s for New York – but Nissan has taken its time getting the look right for London.
Palmer added: 'We didn't want the cab to look like it had come straight from the 1950s, but neither did we want it to look too like a van. It'll certainly be badged as a Nissan but it'll be iconic in the way a London taxi should be. Boris [Johnson] told us it needs to look a bit like a bowler hat. Our new NV200 taxi does pull that off, I think.'
A great reputation
Nissan says cab drivers have been involved in the process of refining the NV200 for its hackney carriage duties, which will initially be offered with a diesel engine. Technology from the forthcoming eNV200 is likely to be available in the future.
But will cabbies be happy to switch their black cabs for the exciting new NV200?
'I'm sure they will be,' said Palmer. 'Ask a cabbie what he thinks of a Nissan and they'll be very positive. Nissan has a great reputation in the London taxi community thanks to the bulletproof 2.7-litre diesel engine used in previous London taxis.'
Nissan told us it will be unveiling the new NV200 London taxi within the next few weeks.
Check back to Nissan Insider for further details soon.