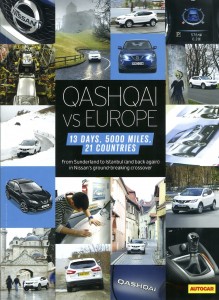 TOP motoring magazine Autocar is a tough outfit to impress but after driving the new Qashqai for more than 5,000 miles through 21 countries it's in no doubt that Nissan has created another crossover triumph.
This week's edition of the publication comes with a bumper supplement devoted to the vehicle that not only details the 13-day journey across Europe but also takes an in-depth look at the new Qashqai's development and testing, and interviews key members of the team who have worked so hard to ensure that it is a worthy successor to the original model.
Also within the dazzling 68 pages, the special publication pays a visit to Nissan Design Europe's studio in central London as well as the manufacturer's car plant in Sunderland.
Autocar was given special access to the development process of the second-generation Qashqai, and supplement editor Mark Tisshaw tells readers: 'Presented with the final product, it was clear that no ordinary test would do . . . We're sure you'll be as impressed as we were.'
The epic journey began at Sunderland – where, among a whole host of impressive statistics, the supplement informs readers that a Qashqai rolls off the production line every 59 seconds – and finished in London, having gone to the cusp of Asia. Why that boundary? Because as the supplement points out, the Nissan brand's heart is in the east of Asia while Europe is the place of the Qashqai's birth and for whose market it was mostly conceived.
En route, the mother of all test drives took in Lille, Vaduz, Trieste, Banja Luka, Budapest, Sofia, Istanbul, Bucharest, Cluj-Napoca, Krakow, and Nuremberg, among other places. Highlights for the team included stunning scenery along the Adriatic coast, Bran Castle in Romania – believed to be the home of Dracula – as well as the former Masaryk race circuit in Brno in the Czech Republic.
'More sophisticated'
And from start to finish, the motoring journalists were nothing but impressed with what the Qashqai has to offer.
Among the plaudits, it's variously described as 'more sophisticated to inhabit than the previous car'  and 'a relaxing car', with its manoeuvrability, visibility, gadgets and 'commanding driving position' also coming in for praise. The supplement emphasises the point that 'Nissan has avoided compromise with the new Qashqai'.
Deputy editor Matt Burt concludes: 'During the journey we've driven our diesel-powered crossover through snow, fog, lashing rain, drizzle and late-evening sunshine. We've encountered motorways, broken village tracks, mountains, city centres and twisty coastal roads, and the Qashqai has taken it all comfortably in its stride.'
A video of the road trip can be viewed on the Autocar website via this link.