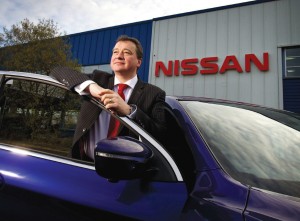 STEPHEN Kneebone, Nissan Europe's Chief Information Officer, has been awarded the number one spot in the UK's annual CIO Top 100 List.
The prestigious award is in recognition of Stephen's role as one of the most transformative CIOs in the business world, delivering outstanding leadership at the highest level, and presiding over the significant growth of the Nissan brand.
Stephen has embraced change to position Nissan as an exciting and innovative brand that is leading the charge on electronic vehicle (EV) technology, supporting European growth and working towards its goal of being the number one Asian brand by 2016.
During his tenure as part of the management team, Nissan Qashqai sales have continued to soar – it is now the bestselling crossover in Europe with the Sunderland plant producing more than one million vehicles over the last two years.
Stephen's commitment to digital excellence and the customer experience as a member of Nissan's brand leadership team has been transformational. One of the key successes has been improving digital customer engagement through IS delivery.
Delivering innovation
Stephen's crossfunctional ways of working and his strong connection with the brand's Japanese heritage and the 'Monozukuri' model allowed him to deliver on the CIO objectives and change management goals.
Stephen said: 'This awards puts Nissan in the spotlight not just for designing, developing and manufacturing world-class cars, including the award-winning all new Qashqai and 100% electric Nissan LEAF, but it also shows how Nissan is leading the industry through its focus on delivering innovation and excitement across all areas of the business.'
Editor in chief for CIO 100 Mark Chillingworth added: 'The CIO 100 judging panel of former C-Level business leaders all agreed that the challenges of driving a digital agenda into a car manufacturing business, and enabling it to think of itself as a retail business too during a recession, is impressive.'