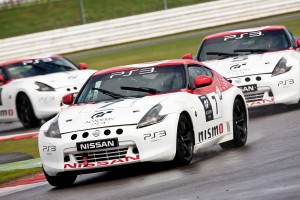 NISSAN and Sony Computer Entertainment Europe have revealed that the innovative GT Academy competition will return for a fifth season.
GT Academy 2013 will be the biggest yet, with more countries than ever before participating and the online gaming element of the competition set to be run in July on a demo of the hotly-anticipated Gran Turismo6 game exclusively on PlayStation3.
Since its inception in 2008, the highly-acclaimed virtual-to-reality competition has attracted over two million entries, with gamers and motor sport fans battling it out on Gran Turismo for the chance to become real Nissan racing drivers.
Six former winners of the competition, which now runs in Europe, the USA, Germany, Russia, the Middle East and South Africa, are now Nismo athletes competing in top-level motor sport on behalf of Nissan.
Nissan's Director of Global Motorsport, Darren Cox, revealed the plans for GT Academy 2013. Speaking at the famous Silverstone Circuit, during an event at which the latest version of the famous Gran Turismo game was announced, he said: 'Every year of GT Academy has provided excitement and firsts, and 2013 will be no exception.
'The selection process and Driver Development Programme are now so robust that we are turning out some genuinely fast racing drivers.'
Kazunori Yamauchi, President of Polyphony Digital, explained: 'GT Academy is a fitting platform for the Gran Turismo community to preview GT6 for the first time, as we aim to bring the worlds of virtual and reality closer than ever.'
Talent-spotting contest
With the online qualification rounds offering a sneak preview of GT6, and the Nismo athletes blazing a trail in motorsport – including Lucas Ordoñez (2008 winner) and Jann Mardenborough (2011 winner) racing at the 2013 Le Mans 24 Hours for Nissan – the entry levels for this year's motorsport talent-spotting contest are expected to reach an all-time high.
The format of GT Academy sees the fastest PlayStation gamers from each country join winners from a number of live events to compete in their respective National Finals.
The action will then make the transition from the virtual world to real Nissan sports cars when the winners of each National competition are invited to take part in the intense international final at Silverstone Circuit, now the established home of the GT Academy Race Camp.
The winners of each of the GT Academy competitions will then be put through an incredibly intensive and thorough Driver Development Programme, rated among the best in the world, in order to qualify for the ultimate competition prize – a full season racing a Nissan GT-R GT3 Nismo in a top-level championship.
Details of how to enter GT Academy 2013 can be found on various platforms including: www.facebook.com/GTAcademy, http://eu.gran-turismo.com and www.twitter.com/GTAcademy.