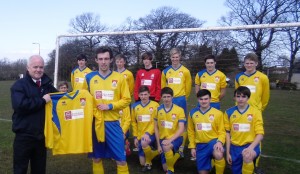 ALEX F Noble Nissan, the Straiton based car dealership in Midlothian, is helping local Newbattle High School start next season in style thanks to a new sponsorship deal which sees the school's senior team kitted out in a brand new strip.
Gordon Campbell, sales manager with the firm, presented the new kit to the Newbattle senior captain, Rory McIvor, prior to a recent league fixture.
Gordon said: 'As a major business in the area, we're happy to support the local community where we can and we thought this would be a great opportunity. Newbattle has a great tradition for nurturing local football talent and we wish all their teams continued success.'
Newbattle's senior team's football director, John Frame, said: 'We are delighted that such a well-known and respected local company as Alex F Noble has agreed to support us in these difficult financial times.
'Running five sides at the school requires a huge commitment in terms of time and resources and this sponsorship will be a big help in enabling us to maintain our provision in the coming year.'
Newbattle is the only school in Midlothian (and one of only 12 across Scotland) which offers regular league participation for all age groups.
In addition to the senior team, the new kit will be worn by the Newbattle Under 16 team in their Lothian Cup Final against Ross High to be held at Spartans FC in Edinburgh on May 17.
Our picture shows Gordon Campbell, sales manager with Alex F Noble, Nissan, presenting the new kit to the Newbattle High School senior captain Rory McIvor.