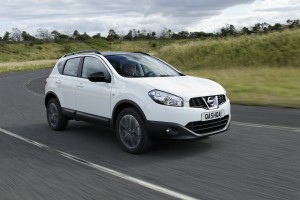 A CARDIFF car dealership says that despite the economic climate, the city's motorists were still keen to buy new cars last month with sales up by 44 per cent compared with last year.
Wessex Garages on Hadfield Road also recorded sales up by 40 per cent for the quarter from July until September compared to last year.
Gareth Howells, General Manager of the dealership, explained: 'There are definitely going to be more Nissans on the road this autumn. Our best seller in September was the new registration Juke and the Qashqai has also proved very popular too.
'We've been having a very successful year in Cardiff and the motor industry in general is doing well despite the economy.
'People see our cars as good value for money, they appreciate the fact they are fuel-efficient and they also say in customer feedback that they find our customer service exceptional."
Wessex Garages recently won the 2013 Nissan Global Award in Wales for its performance in the 2012/13 financial year.
Gareth added: 'The Nissan Global Award is given to the company that outperforms its counterparts across the world in areas such as new car sales, market share and customer satisfaction. Sales of Nissan cars from our dealership were up 11 per cent last year.'
A real achievement
Wessex Garages also recently won the Customer Quality Retailer of the Year award and Overall Retailer of the Year at the Nissan Dealer Awards, and is the first Welsh dealership to ever win one of the awards.
Gareth added: 'It was a real achievement to have not only come away with one but two awards.'
Wessex Garages is a privately owned company that has outlets in Bristol, Cardiff, Gloucester and Newport. It specialises in new and used car sales across South Wales and the South West.