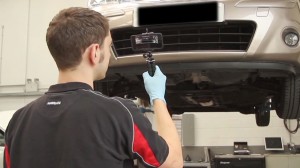 VENTURING into a workshop to get a car serviced can sometimes leave motorists feeling confused and bamboozled by jargon.
So how much easier would it be if the garage emailed customers a quick video showing what work needed to be done? Well, that's exactly what Nissan's new eVision service does.
After an initial inspection, the Nissan technician will make his recommendations in a simple talk-through video of the car.
He will send this via email, allowing owners to see what work is required. Along with the video, the engineer will include an easy-to-understand 'traffic light' report to rate the urgency of any work, which will also include a breakdown of any parts and labour costs.
For example, 'green' means no attention required, 'amber' means an item requires an inspection or replacement by an estimated time, while 'red' indicates the need for immediate action. This system enables owners to choose between giving the car a complete service or just enough to get by. Equally, the system can show that the car is in perfect health, providing added peace of mind.
Owners don't even have to talk to an engineer if they don't want to; they can simply select the work they want to have carried out using an easy 'click and approve' system, then pick up the car when the work is finished.
Chris Marsh, Nissan Aftersales Director, commented: 'Transparency is crucial when it comes to maintenance work at dealerships and eVision is a great way for Nissan to keep customers informed.
'We believe the benefits are enormous for both sides. Customers can make informed decisions and feel more in control because they are being provided with clear evidence – while Nissan dealers are seeing increased servicing work as a result.'
Check out a video of the system in action, below…