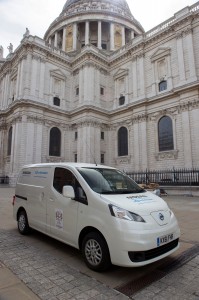 THE City of London Corporation has completed a successful trial of the 100 per cent electric Nissan e-NV200 van as part of efforts to meet the highest levels of environmental responsibility across all areas of its operations.
After enjoying a similarly successful trial of the 100 per cent electric Nissan LEAF earlier this year, Nissan offered the City of London Corporation the chance to try the e-NV200.
The City Corporation – the local authority services provider for the 'Square Mile' – supports and promotes the City as the world's leading international financial centre. In addition to the usual services a local authority would provide – such as housing and refuse collection – it looks after 350,000 daily commuters, 9,000 residents and nine million annual leisure and business visitors.
City of London Corporation tested the vehicle on the streets of central London with universally positive feedback from all the drivers as they look to reduce costs and emissions in the City.
With such a diverse range of possible uses, the e-NV200 was tested for a week by City of London Corporation, with fleet drivers and members of the senior management team successfully demonstrating the pioneering van can cover typical daily journeys on one charge.
With the rising cost of filling up at the pump, the 100% electric e-NV200 promises to help reduce running costs while also helping the environment by bringing CO2 emissions down to zero at the point of use.
John Tomlinson, Chairman of the City of London Corporation's Port Health & Environmental Services Committee, said: 'We are pleased to be one of the first organisations to trial the e-NV200 – and the feedback has been very positive.
Comfort and responsiveness
'We also had access to the Nissan LEAF which was well received by our staff, so we had no hesitation in wanting to try the e-NV200. The drivers were impressed with its comfort and responsiveness.'
Barry Beeston, Nissan GB corporate sales director, said: 'The e-NV200 is one of our most exciting developments in years and the trial with the City of London Corporation marked an important part of Nissan's research and development process ahead of the vehicle's 2014 launch.
'We now look forward to further developing a relationship with City of London Corporation over the coming months.'