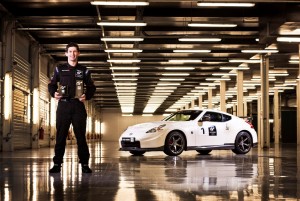 MIGUEL FAISCA, a 24-year-old student from Portugal, has been crowned the 2013 Nissan PlayStation GT Academy European Champion.
The super-fast Gran Turismo gamer proved over a seven-day period at the GT Academy Race Camp at Silverstone to be equally quick in real-life Nissan Nismo sports cars.
He will now undertake an intensive driver development programme to ready him for a full season's racing in 2014 in a Nissan GT-R Nismo GT3 – the stunning GT Academy prize.
More than 765,000 people from across Europe entered this year's GT Academy competition on a special demo of the forthcoming Gran Turismo 6 game for PlayStation 3. For the fifth instalment of Race Camp, a record 42 gamers gathered at the UK's famous Silverstone Circuit to begin the process of turning them from virtual to real racers.
Guided by high-profile judges and mentors, including former Formula One drivers Johnny Herbert, René Arnoux, Stefan Johansson and Vitantonio Liuzzi, the 42 were divided into seven territory groups. The fierce competition saw the field gradually reduced through a series of challenges that tested driving ability, fitness, attitude, psychological strength and potential.
For the final day of Race Camp, only one competitor from each of the seven territory groups remained in contention. After repeating a 'benchmark' test first completed on day one on Silverstone's National Circuit in a 370Z Nismo, the competitors took to the track for practice and qualifying sessions in 370Z race cars.
Coming from no real racing experience before they began, the seven competitors had all completed a basic ARDS race licence during their time at Race Camp as well as a number of challenges and coaching sessions to ready them to take to the track for a race-off.
Miguel will return to Silverstone in October to begin his intensive training programme alongside the winners of the German, Russian and USA Race Camps.
Better prepared
'I'm very proud,' said a delighted Miguel. 'This is the start. It is going to be very hard work, but I can't wait to get going. Thanks to Nissan and PlayStation for this opportunity. It is fantastic to be the first Portuguese winner.'
Darren Cox, Nissan's Director of Global Motorsport, said: 'This is the fifth GT Academy and we have come a long way since 2008.
'All of the PlayStation gamers came here better prepared than ever before and the competition has been fierce.'
Nick Caplin, head of communications from Sony Computer Entertainment Europe, added: 'It's very rewarding for anyone involved with Gran Turismo – including the community of fans – to watch GT Academy grow.
'Congratulations to Miguel, we look forward to watching his progress as he begins his racing career with Nissan.'