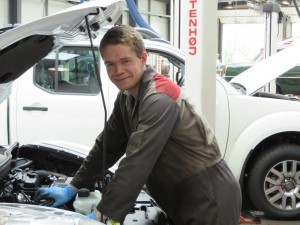 ALEX F NOBLE, the family owned and run Nissan car dealership at Straiton in Midlothian, has been doing its bit for international relations recently by hosting a young Dane on an apprentice exchange scheme.
Klaus Kristiansen, who's 23 and comes from the village of Thisted in the north west of Denmark, worked at the dealership as a service and maintenance mechanic for three months.
Robert Docherty, an engineering trainer at Edinburgh College's Midlothian campus in Dalkeith, heads up the apprentice exchange scheme and facilitated Klaus's stay at Nobles.
He said: 'Edinburgh College has been working in partnership with the EUC Nordvest school for vocational training in Thisted for many years to offer an apprentice exchange scheme to third-year engineering and automotive apprentices.
'The idea of the scheme is to let them experience the industry in which they work in another country and culture. It also helps the Danish apprentices with their English and I believe this is very important to them. Furthermore it gives them an opportunity to visit Scotland and spend some time enjoying all it can offer while earning at the same time.
'I've recently become the college's point of contact for the programme and this year, I wanted to try and get the apprentices that were coming into motor dealerships that had not been used in the past.
'I contacted Alex F Noble Nissan with the details and the dealership principal, David Noble, said they were more than happy to offer Klaus a three-month placement.
Positive experience
Stuart Pender, Alex F Noble's service manager and Klaus's immediate boss for the duration of his stay, said: 'We've been delighted to have had Klaus with us. He's a talented lad with exceptional skills and is to be commended for his dedicated work ethic. This has been a very positive experience and we'll be happy to offer another place to another Danish apprentice in the future.'
Klaus has now completed his stay at Nobles but decided to stay on in Scotland for a holiday.
He said: 'My brother was on a similar work experience scheme last year in Scotland and came back raving about his experience. I was so pleased to have been selected for the programme and have really enjoyed my stay at Nobles.
'I've gained a lot of knowledge in three months and am looking forward to putting all I've learned to good use back to Denmark.'