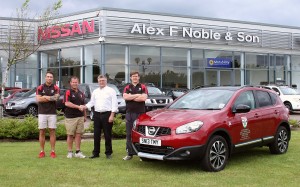 SCOTTISH Championship side, Lasswade Rugby Football Club, has a new car and a new coach for next season.
The new car is a Nissan Qashqai, supplied as part of an ongoing sponsorship deal with Alex F Noble Nissan, the family owned and  run car dealership, based at Straiton in Midlothian.
The Qashqai is for exclusive use by club personnel, in return for shirt sponsorship as well as match programme advertising and pitch side signage opportunities.
The new coach/player for Lasswade's first XV is the well experienced Bernie Hennessy, the South African-born centre and the team's former assistant coach/player who's also played professionally with Rotherham and was part of the Watsonians cup-winning team of 2006.
Ian Barr, the President of Lasswade RFC, said: 'Both the new car and coach are really helping us drive the club forward.
'We're obviously delighted that Alex F Noble Nissan have agreed to continue their support. Primarily, their sponsorship is allowing the club to continue its effort to deliver rugby as a curriculum sport to 14 primary schools and 2 secondary schools in Midlothian. This in turn has allowed the club's youth section to flourish.'
Very ambitious
Ian continued: 'Trying to run a rugby club in this current economic climate is very difficult so we are very grateful for the support Nobles provide. Hopefully we can do the company proud as we are very ambitious and although finishing mid-table last season, we're hoping to be more competitive this season with some very promising young players coming into the seniors.
'We also have a new player/coach in Bernie Hennessy and I've no doubt we can benefit from his experience as a professional player.'
David Noble, dealer principle at Alex F Noble Nissan said: 'Lasswade RFC is an enthusiastic and highly ambitious club with great facilities, excellent support and a progressive management team. Alex F Noble is very pleased to maintain our sponsorship of the club and we wish the team every success for next season.'