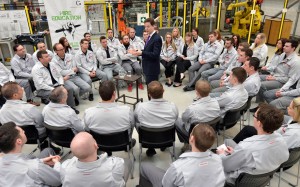 NISSAN staff welcomed Deputy Prime Minister Nick Clegg to the company's production plant in Sunderland.
Mr Clegg was given a tour of the award-winning plant on March 14, which is currently undergoing a large extension to accommodate the introduction of the Infiniti Q30 compact premium car next year. The extension is part of a £250 million investment by Nissan, supported with a £9.2 million grant from the Government through the Regional Growth Fund.
Kevin Fitzpatrick, Nissan's Vice President for Manufacturing in the UK, said: 'We were very pleased to welcome the Deputy Prime Minister for the first time to our Sunderland plant.
'Preparations for Infiniti production are progressing well and we are grateful for the Government's support in securing this new premium vehicle for the UK.'
As well as a visit to the production line to see the Nissan Qashqai and the all-electric LEAF in production, the Deputy Prime Minister was also shown Nissan's new electric van, the e-NV200, as well as the Infiniti EMERG-E prototype, the brand's first range-extended, mid-engine electric sports car.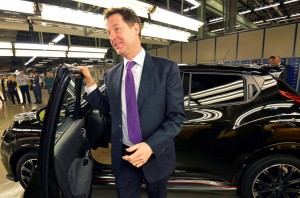 When the Infiniti Q30 launches next year in Sunderland, it will be the first time that a new car brand is starting manufacturing in the UK on such a scale for 23 years.
Mr Clegg ended his visit with a question-and-answer session with Nissan staff in the Gateshead College Skills Academy for Sustainable Manufacturing and Innovation (SASMI), which is also home to Nissan's only global training centre outside Japan.