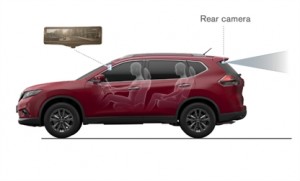 NISSAN has announced the development of the Smart rear-view mirror, the world's first LCD monitor that not only provides clear rearward visibility under various conditions, but also allows the driver the ability to switch between the LCD monitor and the traditional rear-view mirror, depending on the driver's preference.
The Smart rear-view mirror is housed within the structure of the rearview mirror, with a built-in LCD monitor that can be activated in place of the conventional mirror.
A high-resolution camera mounted on the rear of the vehicle provides the driver with a clear unobstructed view of the rear flanks, allowing the ability to check blind spots and other traffic conditions.
The camera projects a clear image onto the monitor to provide the driver with a better view for a more comfortable driving experience.
An additional feature of the Smart rearview mirror is the versatile switch function.
Operated by a control located at the bottom of the mirror, the driver can utilise the traditional rearview mirror system, or with a simple flip of a switch, gain an unobstructed rearward view behind the vehicle embedded on the LCD display.
The Smart rearview mirror provides a wider and clearer view when compared to a standard mirror. The LCD monitor provides unobstructed images of the rear flanks, making traditional obstructions associated with traditional rearview mirrors, such as C-pillars, a non-issue. This helps the driver grasp the traffic conditions within the area in a much more efficient manner.
Rearward visibility from conventional rearview mirrors can be obstructed when there are tall passengers in the rear seats, or when luggage is stacked high in the rear compartment. However, with the Smart rearview mirror, rearward visibility is free from in-vehicle obstructions, thanks to the camera mounted on the rear window that displays its images on the LCD monitor built into the rear mirror.
Crisp, clear image
In addition, the Smart rearview mirror can provide a crisp, clear image in a variety of environmental conditions including rain, snow, dawn and dusk. The high-quality camera and image processing system implemented in the LCD monitor consistently results in a clear image with minimal glare, even during sunrise or sunset conditions or when being followed by a vehicle with strong headlights.
Andy Palmer, Chief Planning Officer and executive Vice President of Nissan, said: 'Smart rearview mirror will give our customers the best possible view no matter how tall the passengers in the back seat, or the road conditions.
'It also offers the possibility of new and exciting designs for our upcoming models because Smart rearview mirror is an alternative to a very wide rear window for good visibility. We'll have the flexibility to create new shapes, and to further improve aerodynamics for better fuel efficiency.'
Nissan is planning to introduce the Smart rearview mirror to global markets in 2015.