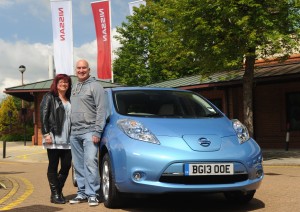 THE first 25 people involved with the Low Carbon London EV lease scheme, a project run by UK Power Networks, have recently taken delivery of their new LEAFs at Nissan's UK headquarters in Maple Cross, Hertfordshire.
The handover comes as the Low Carbon London project extends its EV trials across the capital to understand the impact of low-carbon technologies on the electricity network.
The first 25 brand new electric vehicles have been leased by individuals and their families under the scheme and will be providing support and information for the trial.
A further 25 have been set aside for companies, to not only get involved and experience having an electric vehicle on their fleet, but also see how much they can save.
Both the individuals and companies involved in the project will be provided with a free charging unit at their location of choice, as well as access to Source London – the capital's EV charging network which has more than 1,300 charging points across the city.
As part of the project, all the LEAFs have gone to people and companies who will be driving and recharging cars within the M25, with the individuals leasing the LEAF for a year and the companies leasing one for two years.
Smart electricity networks
Low Carbon London is a £28.3 million programme driven by UK Power Networks, largely funded through Ofgem's (the energy industry regulator) Low Carbon Network Fund, to help develop smart electricity networks in Britain.
Barry Beeston, Nissan corporate sales director, said: 'This project, instigated by UK Power Networks, will provide vital information on running an electric vehicle and the resulting impact it has on both electricity distributors and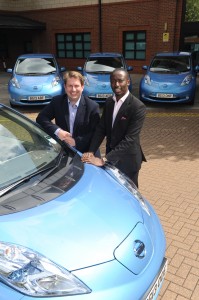 us, as manufacturers.
'The Nissan LEAF is the ideal choice for this trial as it will turn all 50 drivers into strong advocates of electric vehicles, especially around large urban areas such as London.'
Michael Clark, interim Low Carbon London programme director, said: 'We will be monitoring the drivers' charging behaviour and using that to model the type of electricity network that will be needed to support larger numbers of electric vehicles.
'The aim of the project is to ensure the electricity network supports the transition to low carbon transport.'
The Low Carbon London project is led by UK Power Networks and supported by a number of organisations including the Greater London Authority, Transport for London and the Institute for Sustainability.
Nissan is providing the perfect urban car to extend the Low Carbon London EV trial with a range of around 100 miles and costing just £2.30 to fully charge. For more information about the project click here.