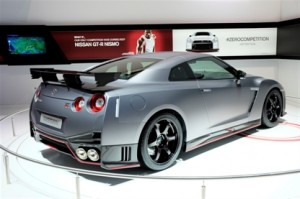 TWO of the biggest attractions of the 2013 Tokyo Motor Show have made the trip to Geneva to make their European debuts today.
The thrilling GT-R Nismo, pictured here is a thrilling race-inspired version of Nissan's legendary supercar, delivering 600PS (441kw) from advanced 3.8-litre twin-turbocharged V6. Nissan latest member of the Nismo family employs innovation, uncompromising engineering and motorsports-inspired technologies to achieve new levels of power, speed and handling.
While the GT-R Nismo showcases some of Nissan's most exciting innovations for today, the BladeGlider concept –pictured on the home page of Nissan Insider – looks ahead to tomorrow's performance car technology.
Nissan's latest sports concept will challenge conventional thinking on sports car performance handling, braking and weight distribution.
The Nissan BladeGlider features a radical front narrow track layout, where the front is significantly narrower than the rear, creating a swept-wing profile when seen from directly above.