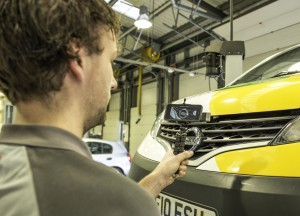 AN AWARD-WINNING Exeter car retailer is believed to be the first in the world to introduce Formula One standards and technology in its workshop.
Inspired by a VIP visit to Sebastian Vettel's Infiniti Red Bull Racing pits at the recent Dubai Grand Prix, bosses at JFE Nissan have transformed the dealership's 12-bay service centre into an state-of-the-art environment more befitting motor racing's elite.
The transformation, which has cost tens of thousands of pounds, has included:
A complete refitting of the workshop to facilitate the introduction of F1-style 'clean room' working conditions. This includes the installation of a specialist pit lane flooring system.
The installation of a suite of high-tech surveillance cameras that allow customers to view every aspect of their car's service on a TV screen in the showroom or remotely on a laptop, tablet or smartphone.
The introduction of Nissan's innovative eVision system through which each service customer receives a detailed video of any repairs their vehicle needs along with an easy-to-understand 'traffic light' report explaining the urgency
The fitting of a cutting edge lighting system to improve visibility and working conditions
New overalls, tools and equipment for the dealership's team Nissan-trained technicians
The appointment of a new full-time workshop maintenance technician with the task of maintaining surgical conditions of cleanliness
JFE Nissan Dealer Principal, Matthew Holcombe, said: "I was on a Nissan incentive trip to the Dubai Grand Prix and I was blown away by the condition of the Red Bull pits and the professional manner in which the team members worked.
"Afterwards, I thought we could replicate those kinds of conditions and working practices back at the dealership and, if anything, do it even better than they did.
"Ultimately, of course, our aim is to improve the standards of care and service we offer our customers by making everything totally transparent and allowing them to monitor every aspect of their vehicle's maintenance.
"So far, the feedback we've had from our customers has been phenomenal."
Matthew added: "In the past, we were always very proud of the standards and appearance of our showroom but the workshop looked like most others and was a bit of a let down. Now it's our pride and joy."
Group Service Controller, Pete Lascelles, was the man tasked with giving the workshop its motorsport makeover and he too is delighted with the results.
Pete said: "To our knowledge there are no companies out there who specialise in this sort of camera system for the vehicle aftersales industry and so we tasked the experts from our alarm company to go away and design something completely bespoke.
"We now have three cameras installed on every one of our 12 bays and this gives customers a 360 degree view of their vehicle at all times.
"You might have expected installing cameras would make some people uncomfortable but the reaction we've had from our team has been amazing. They absolutely love the new system and they now feel a real sense of pride in coming to work in such a top class environment. We've also seen a significant rise in productivity and efficiency."