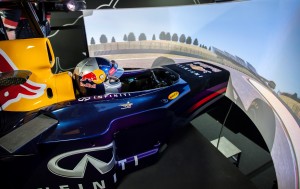 JANN Mardenborough will compete in Formula One feeder series, GP3, in 2014 with the championship-winning Arden International team.  The 2011 GT Academy winner also joins an intensive driver development programme with Infiniti Red Bull Racing, the most successful Formula One team of recent times.
In the last two seasons Mardenborough has competed and excelled in GT cars, Le Mans Prototypes and single-seaters, his most recent efforts earning him the runner-up spot in the New Zealand-based TRS single-seater championship.  His podium finish at Le Mans in 2013 came two years to the day after he reached the final stages of GT Academy in 2011.
"I feel ready for GP3," said Mardenborough. "I've prepared well and I have all the right people around me to help my development so I can fully focus on my racing.   Formula 3 has taught me so many things, both in the car and out of the car, both mentally and physically. It was a great stage in my development and I'm sure the skills I've learnt there will help me in GP3 and beyond. I'm excited to work with Arden. My initial impressions of them are excellent; they have a lot of experience and great success over the years. I'm looking forward to working with my race engineer Sean (McGill).
"I haven't raced the GP3 car yet," he continued. "But going on initial testing, I prefer the GP3 car to an F3 car. The power is very addictive! This season is my opportunity to impress more people in the sport who make the decisions on who makes it into F1 and who doesn't and I'm going to give it my best shot."
Arden International was selected for its championship-winning pedigree.  The team's most recent success story is that of Russian racer Daniil Kyvat who won the GP3 title with Arden in 2013 and will now race in F1 with Toro Rosso in 2014.
A crucial element of GT Academy is Nissan's driver development programme, which helps the winners switch from the virtual world of gaming to the reality of the race track.  This is where Jann learnt his craft.  He will now add on a bespoke development programme with Infiniti Red Bull Racing to push his talent as far as it will go.
"We're delighted to welcome Jann onto our programme," said Andy Damerum, Red Bull Racing's driver development manager. "We have been tracking Nissan's innovative approach to motorsport and in particular GT Academy that challenges the status quo of motorsport. The traditional route to F1 of karting and single-seaters is a tried and tested success but Nissan and PlayStation have gone down a very different road and started to find some very talented drivers who have been doing all their practicing on a games console.  I'm very interested to see how Jann fares on our programme and in GP3 this season and I look forward to taking him under the Infiniti Red Bull Racing wing to further progress his career. "
The mentor for the UK finalists of GT Academy 2011 was none other than Johnny Herbert, who has kept a close eye on Jann ever since.
"I have been mightily impressed with what Jann has achieved since winning GT Academy," said Herbert. "For someone with Jann's experience doing so well is very rare to see. Last year he raced in the European F3 series which is hell of a tough challenge during your first season; the fact that it was Jann's first season in any kind of single-seaters is incredible.
Whilst he has had a very successful first year in GT racing and he has now got an amazing result at Le Mans 24 Hours under his belt, he is competing against drivers that have grown up with seasons of karting and single-seater experience behind them.
His talent has not only impressed me, but has now got experienced figureheads in motorsport talking about what Jann, Nissan and GT Academy is achieving," continued Herbert. "The world of motorsport is recognising that GT Academy is helping bring talented young blood into the sport. The success of Jann and other GT Academy winners is also inspiring a new legion of gaming and motorsport fans by giving them a new route to becoming a professional racing driver.  The only question that remains unanswered is 'Can a gamer make it all the way to F1?'"
"Jann's progress is just the tip of the iceberg for the success of the graduates of GT Academy," said Nissan's Director of Global Motosport, Darren Cox. "Last year we took 41 podiums around the world including Le Mans, the Spa 24 hours and the Dubai 24 hours and won two championships in the GT-R Nismo. The innovation is now obvious to everyone who looks into the detail, however like most innovations this was not the case when we kicked the programme off six years ago. Nissan and Playstation have bought motorsport to a new generation of digital fans and now we are expanding even further geographically. Recent additions to our core markets of Europe, Russia and USA are India and the Middle East and more new markets will be announced in the coming weeks."