The Goods Entrance at Nissan Sunderland Plant has been known as The South Gate since the plant first opened 35 years ago.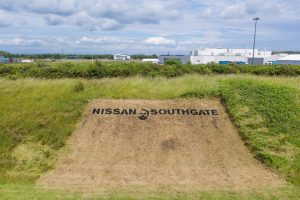 It is used by thousands of staff and part delivery drivers every single day.
To get behind England in their semi-final against Denmark earlier this week – and now in preparation for the final against Italy! – the plant renamed the entrance The Nissan Southgate – complete with a picture of UK's team manager Gareth Southgate.
Michael Jude, HR Director at Nissan Sunderland Plant, said: "Thousands of our team here at the plant and supplier delivery drivers use the Nissan Plant South Gate every single day.
"To show our support for Gareth and the lads for tonight we've renamed it the Nissan Southgate, complete with a picture of the man himself. Come on England!"