Seventy per cent of drivers across Europe would consider an electric car as their next vehicle, a recent study by Nissan discovered.
And while that's certainly a significant number of people, they've got a lot of catching up to do to match the enthusiasm for electric motoring displayed by Kay and John Bickley, of Okehampton, Devon.
Kay and John recently took delivery of their fifth Nissan LEAF from South West Nissan. And they're as delighted with their latest car as they were with their first, which they purchased about a decade ago as true EV pioneers.
Kay said: ''We bought our first LEAF after having solar panels installed at home, meaning we were generating a lot of our own energy.
''That made it a bit of a no-brainer to have an electric car, which is where we found ourselves when the first LEAF became available. We've always been very keen to move away from the use of fossil fuels.''
Over the years, Kay and husband John have owned three new LEAFs and two pre-owned examples. The current model they run is a 69-plate e+ version equipped with a 62kWh battery, meaning it can travel up to 239 miles on a single charge. That's easily enough for the couple to explore the scenic south-west without the need for a top-up.
So what was it about LEAF that attracted the couple in the first place and has kept them so loyal to Nissan over the years?
So spacious
Kay explained: ''We've always found LEAF not to have a quirky look about it – that's a path other manufacturers have gone down – but we didn't want a car that looked too different.
''And in terms of the spaciousness inside, it's brilliant. They're good-sized family cars.''
The novelty factor around electric cars has disappeared over the years.
Kay recalled: ''When we had our first LEAF, they were very new cars and when we were charging up, we would find that people would come and talk to us. As early EV owners, we were members of rather an elite club!
''It was fun to be in that unique position and people were genuinely very interested. A lot of people took the mickey! But the last laugh was always on us because we would explain the financial side of things and it was clear we were the ones reaping their benefits.''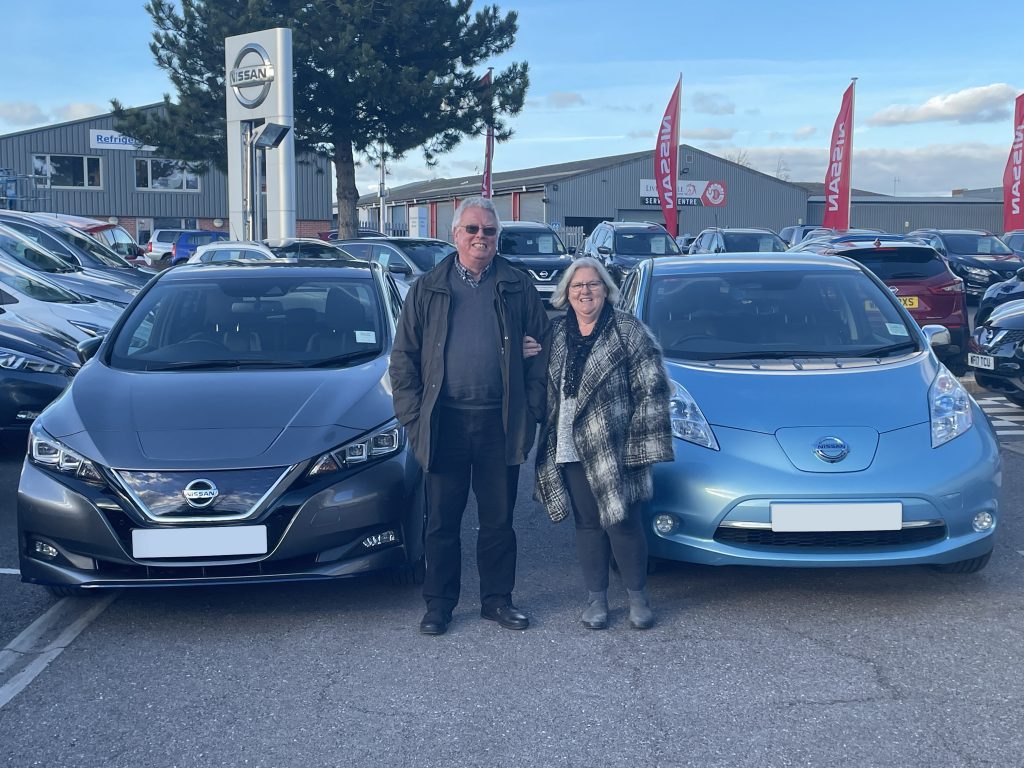 Kay and John ran a bed and breakfast establishment in Okehampton for 20 years, with the town ideally placed for visitors planning to explore Dartmoor and other areas of south-west England.
In fact, they installed one of the county's first public charging points which was free to use for anyone, paying guests included. And they encouraged other B&Bs and tourist attractions to follow suit.
''I wouldn't say I'm passionate about electric motoring to the point of pushing it down people's throats,'' explained Kay, ''but we have become very positive advocates for driving electric cars and we've always been very willing to discuss it. We do feel strongly about having more sustainable forms of transport.
''For the vast majority of people, the journeys they undertake – probably 90 per cent of them – are fairly local. If that's the case, an electric car can more than accommodate you.''
Huge investments
So what would Kay say to the 70 per cent of European motorists thinking about electric motoring but who have yet to take the plunge?
''First of all, look at the economics. Financially, it's much, much cheaper to drive an electric car. Secondly, if you are concerned about treading a bit more lightly on the planet, and doing your bit to move away from fossil fuels, then electric motoring is a good way of doing that. Finally, if you're generating your own energy, as we are with our solar panels, what's not to like?''
Kay is full of praise for the Nissan as a manufacturer and the dealership she uses, South West Nissan in Exeter, in particular.
''Nissan definitely deserve credit,'' she said. ''They've invested hugely in the UK and it's great that LEAF is made in Sunderland. The cars are very technologically sophisticated which is wonderful. But I simply like the fact that the LEAF is a traditional family-sized car. We have never needed anything bigger or flashier!''
Kay added: ''The team at the dealership have been wonderful and we certainly have a friendly and long-standing relationship. In the early days, they would stay open late for us if we needed a charge and Nissan's finance offers are often very appealing. We've loved going on our electric motoring journey with them.''
Jake Brock, sales executive at South West Nissan, Exeter, said: ''It's wonderful to hear how much Kay and John have enjoyed their many years of electric motoring with Nissan and we're delighted they are so loyal to LEAF.
''It was certainly the first mass-market electric car and in our view, it's still the best. We wish Kay and John many more years of happy electric driving.''