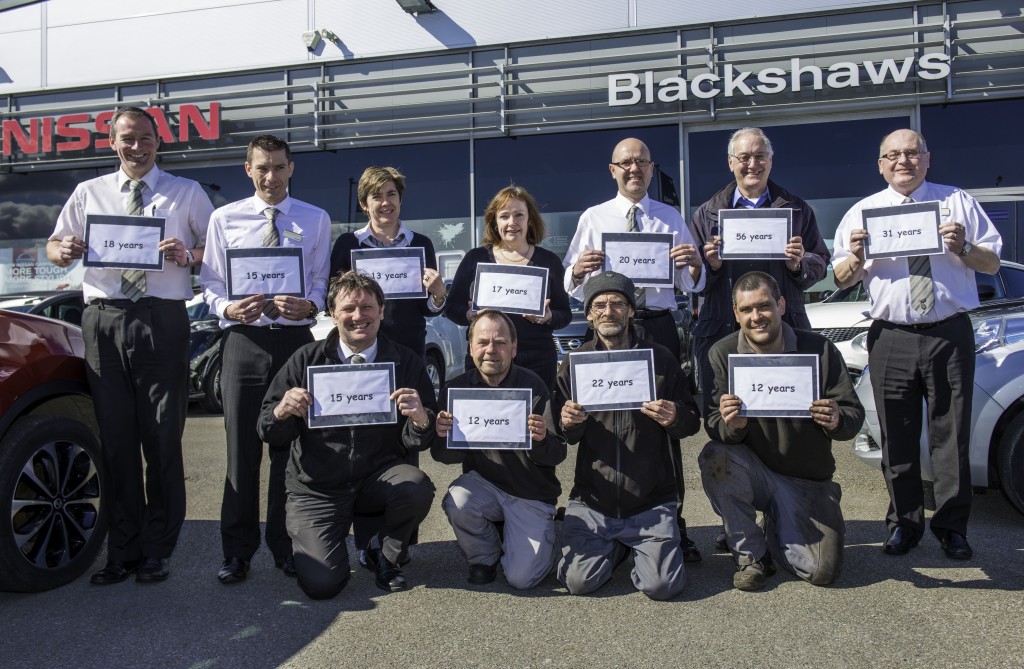 A FAMILY-RUN Nissan retailer in Northumbria could be the UK automotive industry's happiest workplace.
Official statistics show the average UK business loses almost 12% of its staff each year, with figures for the automotive retail sector thought to be even higher.
But Blackshaws Nissan in Alnwick is defying accepted convention with an average annual staff turnover rate of just 2.5 percent.
Incredibly, more than 30 percent of the business' 41-strong team have worked at the dealership for more than 10 years.
At a recent long service presentation, valeter John Fawcus (22 years), parts manager Steve Lowther (20 years) and sales executive Ronnie Black (31 years) all received 20-year long service awards.
Meanwhile, 10-year service awards were presented to branch manager Mark Livingstone (18 years), accountant Sue Makin (17 years), sales executive Richard Blackshaw (15 years), sales administrator Jayne Imeson (13 years), customer follow-up administrator Bev Jackson (11 years), aftersales manager John Elliott, (15 years), senior master technician Gary Aitken (12 years) bodyshop foreman David Lightfoot (13 years) and valeter Billy Appleby (12 years).
A number of other staff will qualify for long service awards next year.
Dealer Principal William Blackshaw, who has himself been with the family firm for more than a decade, believes the dealership's long-standing commitment to staff development and mutual co-operation and respect is behind its staff retention success.
He said: "Any business is only as good as its staff and we're always mindful of that. We're always approachable, we operate an open door policy, hold annual appraisals and are committed to continuous training.
"Our business is run in partnership with our staff and we're very lucky to have them."
William continued: "We also make a point of regularly thanking our staff for the contribution they make and the commitment they show. Over the years we have organised various family social events for our staff and the long service awards are a part of that too."
Sales Executive Ronnie Black, who has been with the business for more than 30 years, said: "This is a great place to work and the length of time everyone's been here just goes to prove that.
"There's just a really good atmosphere about the place. Even the customers come in and say it feels friendly. We even get some people who just pop round for a cup of coffee and a chat"
Valeter, John Fawcus, joined the dealership more than 20 years ago through a Job Centre programme. Despite working through the cold Northumbria winters, cleaning cars, he's never thought of leaving.
John said: "I came here to temporarily fill in for a guy who was taken to hospital and I never left. It's been a brilliant place to work.
"Everybody gets along and we all have a good laugh with each other."