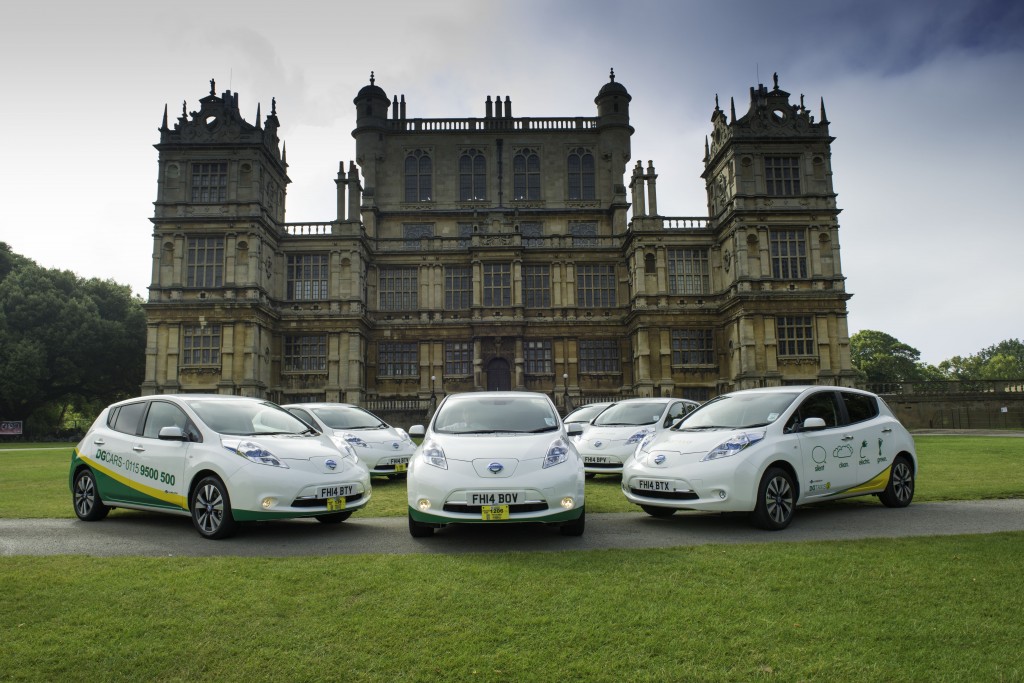 NOTTINGHAM'S first fleet of all-electric taxis has gone into service for the first time, ushering in a new era of cleaner and greener transport in the city.
History was made when Councillor Alan Clark, Nottingham City Council's Portfolio Holder for Energy and Sustainability, was the first fare in one of six Nissan LEAFs operated by leading Midlands cab company DG Cars.
The Nissan LEAF's trailblazing pure electric drivetrain meant Cllr Clark's short journey from Wollaton Hall to the City Council's chambers was made with zero emissions.
Cllr Clark said: "Nottingham is one of the greenest cities in the UK, and we are great believers in greener public transport. We are already the largest owner of electric buses in the UK, so the news that a significant transport provider in our city is investing in electric cars is a welcome boost.
"The city has a goal to reduce our carbon emissions by 26% by 2020. Cleaner transport is good news for residents, good news for businesses and good news for the environment, making journeys quieter and reducing fuel bills and CO2. We are delighted that companies in the city are also working towards a more environmentally sound Nottingham."
Family-run DG Cars, Nottingham's premier taxi company, took the decision to add the six Nissan LEAFs to its fleet of more than 450 vehicles as part of its ongoing commitment to cleaner travel and to helping improve air quality in the city.
The company has already received a number of awards for its environmental work and is now committed to reducing its carbon footprint by a further 20 per cent by 2015.
Owner Amjid Javaid believes the outstanding environmental credentials of the Nissan LEAF – the world's bestselling pure electric car – makes it the perfect vehicle to help meet that goal.
The LEAF's ultra-low running costs, which can be as low as two pence per mile, also make it the perfect choice for taxi operators.
Amjid said: "The Nissan LEAF was chosen to be the flagship vehicle of our extensive ECO Fleet and by adding the electric cars we feel this makes a significant statement within the private hire industry not only by addressing our corporate social responsibility but offering our passengers – domestic and corporate – the 'electric experience' and a carbon-neutral journey too.
"Our mission is to rapidly expand and have possibly the largest fleet of electric vehicles in the country within the next two years, and we look forward to working in partnership with Nissan to achieve this goal."
Ben Hodkinson, sales manager at the new local Nissan retailer Sandicliffe in Abbeyfields, Lenton Lane, Nottingham, said: "The Nissan LEAF is finding favour with taxi operators across the world thanks to its low running costs and environmental benefits.
"It's a very spacious and well-equipped car as well and its electric motor makes it so smooth it's an incredibly comfortable ride too.
"Many taxi users are also more environmentally aware these days and where LEAF taxis are already in operation they are often the most popular and requested vehicles on the fleet."
Built at Nissan's record-breaking plant in Sunderland, the LEAF can cover 124 miles on a single charge* and can be charged from zero to 80 per cent in as little as 30 minutes.