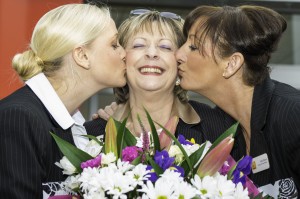 AN award-winning Wirral car retailer has waved goodbye to its much-loved mother figure.
Lynda Darnell, 62, retired this week after more than 12 years as Nissan Wirral's Regional Marketing Co-ordinator.
During her time at the Woodchurch Road dealership the popular grandmother has become a maternal figure to teammates across the business.
And her colleagues, including her real daughter Sarah – the dealership's service receptionist – demonstrated their affection by presenting her with a collection of farewell gifts including a Kindle, a box of chocolates and a bouquet of flowers.
Lynda is now looking forward to spending more time with husband Keith, their three daughters and four grandchildren and to travelling and sightseeing.
Great place to work
Speaking after being presented with the gifts, an emotional Lynda said: 'I'm really going to miss everyone at the dealership. It's been a great place to work and it's been so easy to love the people I've worked with.'
She added: 'I'm sure I'll keep in touch with everyone and pop in from time to time but I'm looking forward to travelling, doing lots of walking and generally seeing places I haven't been able to see.'
Paul Bradley, Branch Manager at Niisan Wirral, said: 'It's not an exaggeration to say Lynda's been a mother figure to everyone at the dealership. Everyone goes to her for help and advice and she's been a real confidant to some of her colleagues.
'As individuals we're really going to miss having her around but she'll also be missed from a business point of view. She has a real infectious enthusiasm that drives all those around her to do better and get results.'
In our picture, Lynda receives a fond kiss from her daughter Sarah, left, and colleague Anita Sheard as she retires from Nissan Wirral.
This story was prepared by the Nissan Dealer PR Service. Call the Nissan Dealer PR team on 0845 0550504 if you have a story you'd like your local papers and radio stations to know about!