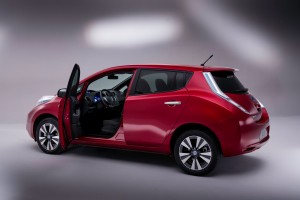 THE new Nissan LEAF has arrived – and it has a longer range, is more practical, better to drive and has even more equipment.
Since its launch in 2011, more than 50,000 examples have found homes and the world's best-selling pure electric vehicle has been built solely in Japan. But production of the new model will soon start at Nissan's Sunderland production facility with more than 100 changes made to the multi-award winning car.
Improvements include an extended driving range, greater recyclability, more interior space, better charging performance, more equipment and, with three versions now available, greater choice. Subtle styling changes to the nose of the car have improved its already impressive aerodynamic efficiency.
Many of the changes have come as a direct result of feedback from pioneering LEAF owners. With some of the most active internet forums of any car-owning group, LEAF drivers have become enthusiastic advocates of zero-emission mobility and of the car itself – LEAF enjoys the highest customer satisfaction rating of any Nissan model with a score of 93 per cent.
In addition to this human feedback, Nissan has been able to get feedback from aggregated data from the unique Carwings telematics system, which is at the heart of LEAF. This powerful feature gives customers the ability to control the heating and charging of their car remotely and also logs information on charging, usage patterns and distance driven. With LEAF having been on sale for more than two years, engineers at Nissan have been able to use some of the data collected to optimise the car in line with actual customer usage.
Changes range from a new powertrain assembly that greatly enhances the car's practicality to simple modifications, such as the addition of an LED inspection light within the charging port making overnight charging that much easier.
New comprehensive warranty
'LEAF owners are passionate about their cars and their comments and experiences have genuinely influenced many of the changes we have made to New LEAF,' said Paul Willcox, senior vice president, sales and marketing, Nissan Europe.
Customer peace of mind has also been increased with a new comprehensive warranty plan for the batteries. As well as covering the batteries against defects in materials and workmanship for five years/100,000 kms, they will be covered by a 'State Of Health' clause which covers gradual capacity loss.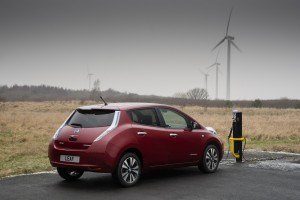 Over time, lithium-ion batteries lose a percentage of their capacity, a natural phenomenon. But should battery life reduce quicker than anticipated over the same warranty period it will either be repaired or replaced.
One significant change to the 2013 Nissan LEAF is the move to producing the car in three different locations: North America, Europe and Japan.
In Europe, production will start shortly in Sunderland in the UK, where LEAF will be sharing the line with Qashqai and joining Note and Juke.
At the same time, the high-tech lithium-ion batteries are already being produced at a new facility nearby on the Sunderland site.
'By sourcing Nissan LEAF and its batteries in Europe, we are underlining our faith not just in the ability of the Sunderland facility to build our most technically advanced car, but also in the fact that electric vehicles can be considered a genuine alternative to conventionally-powered vehicles,' said Willcox. 'In its two years on sale, the global success of Nissan LEAF has shown that electric vehicles offer viable everyday transport for people with a typical daily commute.'