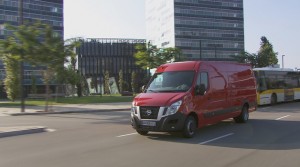 MANAGING rising fuel prices, vehicle purchase and running costs, and protecting vans from future regulation are all key priorities for the modern-day van fleet manager according to the 2013 Nissan Van Report.
Surveying 252 fleet managers, the report aims to understand more of the challenges faced by running vans.
One such challenge is fuel prices. Since 2001, diesel prices have doubled to an average of 139.8p per litre and not surprisingly 75 per cent of fleet managers surveyed were taking measures to control or reduce fuel use, although a quarter of them are still doing nothing.
One half (51 per cent) of respondents said driver training is the most popular measure to reduce fuel use, along with technological interventions such as speed limiters (37 per cent) and telematics (35 per cent).
Costs are clearly a big driver for respondents adding vans to their fleet, with whole life costs (25 per cent) and front-end prices (18 per cent) major considerations. Contract hire monthly rates (12 per cent) and strong residuals (eight per cent) were also important but vehicle reliability was only listed by seven per cent of fleet managers.
The main appeal of running vans at below 3.5 tonnes Gross Vehicle Weight (GVW) is the lack of operating restrictions. Just 27 per cent said they were in favour reflecting an increased focus on Duty of Care by companies, while 67 per cent of respondents weren't in favour of further legislative measures being introduced.
Of this 27 per cent, telematics devices (48 per cent) were the most popular choices, while 42 per cent supported adoption of an official driving test to allow drivers to drive a van.
Satellite navigation
When choosing features to add to their vans, fleet managers unanimously chose satellite navigation systems (40 per cent) followed by vehicle tracking (13 per cent) and Bluetooth (11 per cent).
Looking at how far vehicles travel on a daily basis nearly 40 per cent of fleet managers said their drivers travel 100 miles or less per day, reinforcing the fact that they could use Nissan's eNV200 electric van on their fleets.
Just one in five (22 per cent) cover more than 200 miles each day.
Like van drivers, fleet managers are a loyal bunch with more than half (56 per cent) saying they had been in their current job over 11 years.
Jon Pollock, Nissan's corporate sales director, said: 'Our research gives an insight into what fleet managers are thinking and the challenges they face running a modern van fleet.'
'It also gives the industry a better idea of what fleets are looking for when buying and running light commercials.'