A Fleet Sales Manager who has been involved in the sale of Nissan vehicles for almost a decade, has told of his battle to secure the future of his youngest daughter, who is unwell with a life-threatening bone marrow disorder.
Five-year-old Emilia Mackay, whose dad James Mackay has worked with the Midlands-based Arbury Motor Group since 2014, suffers from Aplastic Anaemia.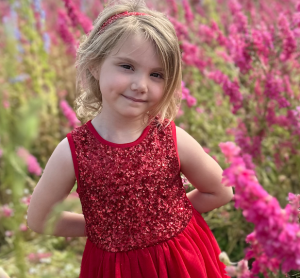 This means she cannot produce the right amount of blood cells or platelets, causing rashes, bruising and tiredness as well as a susceptibility to infection.
James and his family are increasing awareness of the condition and are encouraging people to sign up to the Bone Marrow Donor Register.
They are also raising funds to help with Emilia's care and treatment, and to assist three charities they support: the Grace Kelly Childhood Cancer Trust; DKMS (which carries out bone marrow donor testing); and The Aplastic Anaemia Trust.
Although unwell, Emilia does her best to live life to the full! Her hobbies include dancing and drumming – but her illness and treatment mean she's missing out on many things a normal five-year-old would do.
Great treatment
Every week, she undergoes vital blood and platelet transfusions, which leave her with scars from needles and canulas.
James, who was Local Business Development Manager for Nissan at Arbury before taking on his current role, explained: ''We are lucky that Emilia's illness was spotted quickly. She is receiving some great treatment, but this will only help sustain her life in the short term.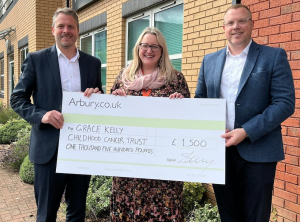 ''Emilia needs to receive a stem cell/bone marrow transplant from someone who is a suitable match. We are greatly appreciative of anyone who is willing to be tested to help Emilia and others like her with this devastating condition.
''As a family, we have been tested, but none of us is suitable, so it could be a long wait until a match is found. In the meantime, Emilia will need to continue visiting hospital regularly, which is having an effect on our finances as well as our normal family life, especially for her older sister.''
James added: ''Even if we are lucky and find a match for Emilia, she has a long, painful road ahead. But we are looking to the future with hope and we'd truly be delighted if anyone in the wider Nissan family felt able to help or support us in any way.''
The Midlands-based Arbury Group operates two successful Nissan dealerships – one in Leamington Spa; the other in Bromsgrove. Arbury has been extremely supportive of James's situation, recently donating £1,500 to the Grace Kelly Childhood Cancer Trust.
To visit Emilia's GoFundMe page, please click here.
And to find out more about becoming a stem cell/bone marrow donor, click here.