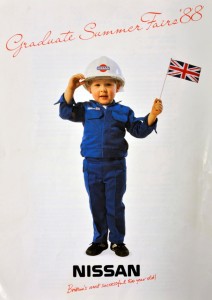 AS A toddler in the 1980s, Chris Pickbourne donned a set of specially-made overalls to star in a recruitment campaign for Nissan's rapidly-growing operations in the UK.
Fast forward to 2013 and the 28-year-old is back in a Nissan uniform to reprise the role – but this time as a member of the maintenance team at the company's record-breaking Sunderland plant.
A young Chris starred in the promotion inviting applicants to join 'Britain's most successful two-year-old', after being volunteered by his mother and Nissan finance team member Wendy.
Twenty-six years later, the technician has been back in front of the camera to promote the wave of new opportunities for engineering and maintenance professionals on the www.careersatnissan.co.uk website.
At the time of those first adverts, Nissan made just one model in Sunderland, the Bluebird, with the plant's 1,100 staff making a total of 28,797 vehicles in 1987.
Since Chris joined Nissan in 2011, the popularity of the Qashqai, Juke and Note meant Sunderland became the first UK factory in history to make more than 500,000 cars in a single year, with staff numbers rising beyond 6,000 for the first time to support four new model launches in a two-year period, which started with the 100 per cent electric Nissan LEAF in March.
Chris, from Washington, said: 'The factory was under construction when I was born and it's amazing to think how the company has grown during my lifetime.
'I've always had an interest in Nissan's success and knowing what an exciting period it was for the company, the job security and the benefits offered, it was a great time to join the maintenance department.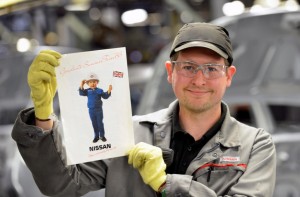 'It's a very challenging and rewarding environment and we're all very much looking forward to seeing the new models in production.'
Record production levels
Mother Wendy, 56, who has now been at Nissan for 26 years, said: 'When I took Chris to the shoot there were a few volunteers, but he was the only one that would sit still for the photographer.
'I'm a very proud mother and have had many happy years at Nissan, so I was delighted when he returned home to join me at the plant.'
Greg Penn, the contact name on the 1980s adverts, who is now HR Director at the plant, added: 'Chris is one of more than 600 extra staff we have hired over the past two years to support record production levels and new model preparations.
'We are actively recruiting for experienced professional people across our engineering and maintenance departments, so I'd encourage anyone interested in Nissan to visit our recruitment website, and find out why more than one in three British cars is now built in Sunderland.'