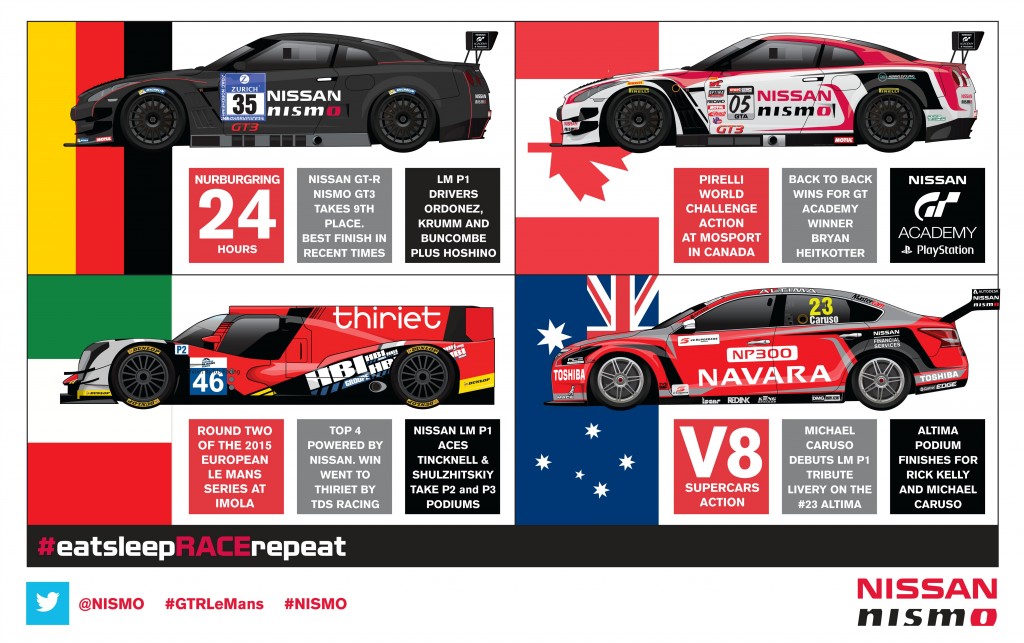 FIVE of Nissan's Le Mans P1 drivers have been busy warming up for the Le Mans 24 Hours, racing in the Nürburgring 24 Hours and the European Le Mans Series.
Lucas Ordonez (ESP), Michael Krumm (GER) and Alex Buncombe (GB) joined Super GT racer Kazuki Hoshino (JAP) in the #35 Nissan GT-R NISMO GT3 at the Nürburgring, taking Nissan's best result in recent times by finishing the race in ninth position.
In the European Le Mans Series, Harry Tincknell (GB) left the field standing at the start of the '4 Hours of Imola' while Mark Shulzhitskiy (RUS) also put in a great opening stint in the #11 Lanan Racing LM P3 Ginetta-Nissan.
BEST FINISH IN RECENT TIMES AT NURBURGRING 24 HOURS
This year's Nürburgring 24 Hours has been a tougher event than ever before for Nissan after the tragic events of VLN 1. To finish the race in ninth place after 24 hours of gruelling racing is testament to the hard work of Nissan GT Academy Team RJN, NISMO, Nissan Germany and of course the squad of drivers.
The #35 Nissan GT-R NISMO GT3 started the race from 31st position after just missing out on the Top 30 pole position shootout due to a penalty. Michael Krumm took the start at 4pm on Saturday and the challenge to make it through the next 24 hours without any delays began. Buncombe jumped in next, followed by Ordonez and then Hoshino san, with all drivers single-stinting to start with.
"We had a very straightforward race, said Team boss, Bob Neville. "After the initial single stints the drivers all did doubles and didn't put a foot wrong. We were pretty cautious during the night when it was raining and this worked out well for us. The car ran like clockwork and it is always good to be able to say that the car didn't need any repairs during the race. I'm very pleased with my team and very happy to take such a good finish here."
"This is a great result for Nissan, NISMO and RJN Motorsport," said Buncombe. "The car ran faultlessly and, most importantly, we didn't break it! All of my team-mates did a great job and we were able to complete the whole race without the car going into the garage once."
The other Nissan GT-R NISMO GT3 in the race, the Schulze Motorsport entry, also had a very strong run. The car was one place behind the #35 GT-R with just one hour to go but when they were almost in sight of the chequered flag they had a gearbox problem and dropped down the order.
GT Academy winner Florian Strauss did a great job for Schulze, just as he did for RJN in 2014, but along with the rest of the team his efforts were unrewarded at the flag.
GREAT PACE FROM THE NISSAN LM P1 DRIVERS AT IMOLA
Harry Tincknell took off like a scalded cat at the start of the '4 Hours of Imola'. Racing the #38 JOTA Sport Gibson-Nissan, Tincknell quickly built up a healthy lead only for it to be taken away by a safety car. Once the caution passed he pulled out a new gap before handing over to his JOTA team-mates. In the P3 class, Mark Shulzhitskiy was making his debut for Lanan Racing and he too put in a storming drive, holding on to second place throughout his run.
"It is this pure pace that convinced us to hire Harry and Mark for our LM P1 programme, said Nissan's Darren Cox. "Although they have taken different paths to the top they are both incredibly fast racers who are also very aware this game is all about team work. It was good to see them going at it today!"
It was ultimately a tough race for Sir Chris Hoy and 2014 GT Academy winner Gaetan Paletou in the Team LNT Ginetta-Nissans. Despite some great driving from Hoy and his team-mate Charlie Robertson, the #2 car ended the race in the garage with a gearbox problem. Paletou and his team-mate Mike Simpson also had to contend with technical problems and were placed sixth.
DOUBLE PODIUM DOWN UNDER WITH A LIVERY MADE FOR LE MANS
Nissan's V8 Supercar squad had a great weekend at Winton Motor Raceway in Australia, taking a double podium finish in Saturday's sprint races for Michael Caruso and Rick Kelly. Caruso then went on to finish fourth in Sunday's 200km race.
Caruso's #23 Nissan Altima V8 Supercar is sporting a brand new livery that is a nod to the forthcoming race debut of the Nissan GT-R LM NISMO at the Le Mans 24 Hours.
Click here for more on Nissan Motorsport in Australia: http://www.nissanmotorsport.com.au/
GT ACADEMY GRADUATE WINS IN PIRELLI WORLD CHALLENGE
GT Academy 2011 U.S. Champion Bryan Heitkotter backed up his GTA category win in the Pirelli World Challenge at Barber Motorsports Park in the U.S. with a second straight class win in the weekend's first PWC race at Canadian Tire Raceway in Mosport, Canada.
The Always Evolving Nissan GT-R NISMO GT3s of Heitkotter and teammate James Davison will take the grid shortly for race two of the PWC weekend.