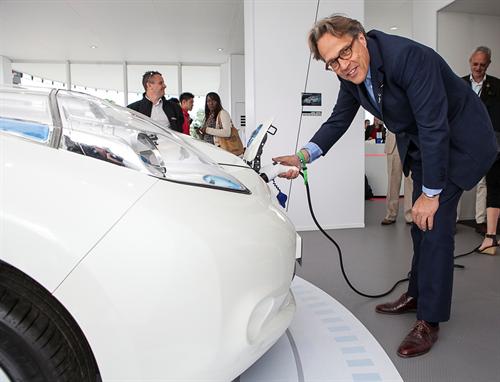 THE world-famous Goodwood Estate in West Sussex is to benefit from the addition of three rapid chargers for electric vehicles – donated by carmaker Nissan.
And the Estate is also looking to take on a pair of all-electric, British-built Nissan LEAFs, the new version of which is now on sale in the UK.
This weekend, Goodwood hosts the Festival of Speed, a key event in the diary of any fan of motoring and motor racing. And as well as being home to the Festival, the expansive estate includes a racecourse, aerodrome, golf courses and hotel.
The new rapid chargers, capable of 'filling' an all-electric LEAF to 80 per cent battery capacity in just 30 minutes, will be installed at Goodwood House, the motor racing circuit and the racecourse.
They will be available for members of the public to use, opening up a crucial attraction to EV users and providing a scenic recharge point for drivers on the South coast.
The chargers will help Nissan achieve its aim of installing 150 fast chargers in the UK by next spring.
The company is firmly in the forefront of electric vehicle technology, with more than 60,000 LEAFs taking to the road worldwide since the first lucky owner took delivery of his car in California in December 2010.
Environmental credentials
Goodwood's LEAFs will be used by Lord March and his family, as well as being put to general use around the estate and farm.
Today's announcement emphasises Goodwood's impressive environmental credentials: the estate is home to the largest lowland organic farm in the UK and Lord March is committed to the principle of organic farming.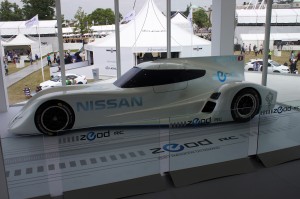 Nissan has an exciting array of attractions and activities at the Festival of Speed, key among which is its Electric Vehicle Experience.
This will allow visitors to get up close to the new ZEOD (Zero Emission On Demand) racing car – Nissan's Garage 56 entry for the 2014 Le Mans 24-hour race. The ZEOD shares battery technology with the new LEAF, which will also be on show.
Lord March said: 'I am thrilled that Nissan has so generously agreed to install three electric vehicle charging points at strategic locations around the Goodwood Estate.
'Electric vehicles are a key ingredient to the future of motoring and reducing harmful emissions, and with Nissan's support I am pleased to be pioneering this ethical form of transportation across Goodwood, especially with the British-built LEAF.'
Jim Wright, Managing Director of Nissan GB, said: 'We are delighted that Goodwood is installing these rapid chargers and naturally, we hope Lord March and his staff will enjoy driving the LEAFs.
'LEAF sales have really gained momentum in the past few weeks as drivers discover the advantages of going all-electric.'