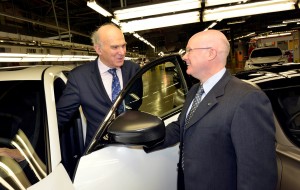 NISSAN has welcomed the new UK Automotive Industrial Strategy, announced by the Secretary of State for Business, Innovation and Skills, Vince Cable.
Dr Cable announced late last week that the UK car industry is to get a £1bn shot in the arm to boost technology research and skills as part of a 10-year scheme jointly funded by the government and manufacturers.
The two parties have committed £500m each to a new national engine development centre which is expected to create 30,000 jobs and support the country's supply chain.
The announcement comes as part of a wider automotive strategy released by Dr Cable on Friday. The move is aimed at keeping the UK car industry globally competitive and at the forefront of new technological developments.
John Martin, Nissan's Senior Vice President for Manufacturing, Purchasing and Supply Chain Management in Europe, said: 'Nissan was involved with the government in developing this strategy. As the largest car manufacturer in the history of the UK motor industry, we are fully committed to supporting its implementation.
'The leadership and support from the government at all levels in developing the strategy has been fantastic and has really helped to understand and prioritise the long-term issues that the nation and the industry have to tackle to maintain the UK's leadership in vehicle and engine manufacturing.
Fostering growth
'The automotive strategy follows hot on the heels of the recently launched Aerospace Industrial Strategy. Both are unique within Europe and both are a great example of industry and government working together to address common issues and foster growth.
'Over the next two years Nissan will have invested more than £1bn in the UK to support our innovative and exciting new model range including Qashqai, Juke, Note and the 100 per cent electric Nissan LEAF. Our workforce recently went over 6,000 for the very first time to support a planned increased in production to beyond 550,000 cars per year in the near future.'
Nissan is represented on the Automotive Council by Mr Martin – and also by Jerry Hardcastle, Global Chief Marketability Engineer.
Our pictures show Mr Cable with Mr Martin at Nissan's record-breaking Sunderland plant.