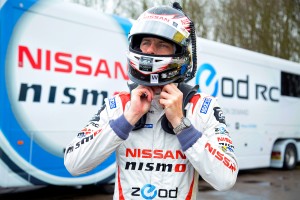 THE driver line-up for Nissan's revolutionary ZEOD RC prototype will feature two past winners of the Nissan PlayStation GT Academy programme with Belgian driver Wolfgang Reip signed to join Lucas Ordóñez at this year's Le Mans 24 Hours.
In 2012, Reip won the European edition of the GT Academy programme that takes virtual racers from their living rooms to the race track through the legendary Gran Turismo PlayStation game.
The Belgian made his race debut in the 2013 Dubai 24 Hours and was subsequently selected to represent Nissan in the Blancpain Endurance Series where he impressed as a rookie.
Reip's speed aboard the GT3-spec Nissan GT-R earned him a seat for the Bahrain round of the FIA World Endurance Championship where he finished on the podium in his first race in a prototype for Greaves Motorsport in LM P2.
The Le Mans rookie will line-up alongside inaugural GT Academy winner Lucas Ordóñez in the ZEOD RC. The final driver will be announced in the near future.
Ordóñez heads into the 2014 Le Mans 24 hours with two LM P2 podium finishes at the classic French endurance event.
Reip has already tested the ZEOD RC and has been in action for the Japanese manufacturer contesting the Bathurst 12 Hour in Australia earlier this month aboard a Nissan GT-R.
Nissan Global Motorsports Director, Darren Cox said: 'Every time we have given Wolfgang another opportunity he has grabbed it with open arms.
'He impressed everybody with his speed in Dubai last year, did a brilliant job in the Blancpain Series and then really opened everyone's eyes with his LM P2 pace in Bahrain.
'Not only has he been fast but he is a quick learner and his technical feedback has been quite exceptional. We've already had him behind the wheel of the ZEOD RC in testing and he has again really impressed everyone.
'He and Lucas work very well together and it is quite fitting that our first couple of drivers on such a unique electric-powered car began their careers with a PlayStation plugged into the electric power socket in their living room.'
Innovative technology
The Nissan ZEOD RC uses a pair of electric motors that will push the car at speeds in excess of 300km/h for a complete lap of Le Mans – the first car to complete this goal in the race's history.
A revolutionary 40kg/400 horsepower 3-cylinder turbo engine will accompany the electric motors. The car's battery will be charged by regenerative braking during each fuel stint with the electric motors taking over for one lap for each tank of fuel.
The Nissan ZEOD RC will occupy 'Garage 56′ at Le Mans – the entry reserved by the Automobile Club de L'Ouest for cars demonstrating new and innovative technology.
This year's Le Mans assault is part of the development process for Nissan's planned LM P1 program scheduled to debut in 2015.
Wolfgang Reip, Darren Cox and the Nissan ZEOD RC will be on site tomorrow at the International Geneva Motor Show where Nissan will stage it's annual press conference at 14:30 (CET).