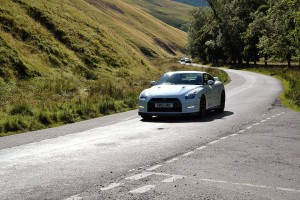 THE TEAM at the Alex F Noble Nissan High Performance Centre just outside Edinburgh gave their customers a day to remember recently.
No less than 17 owners of classic Nissan high performance cars, including the GT-R supercar, gathered at the dealership before heading off in convoy round a specially arranged route through some of  Scotland's most spectacular border country, stopping off for lunch and refreshments along the way.
The NHPC team at Alex F Noble of John Allan and Richard Edington, who arranged the Sunday Drive Out day, were absolutely delighted with the outcome.
John said: "Alex F Noble has a great reputation for excellent service and we felt this would be another good way of saying both thanks to our customers, as well personally bringing them up to date with the latest news from the high performance centre.
"It was a great day and we'll certainly be looking at running another one, perhaps in the spring of next year and expect this may well become a regular fixture in our annual customer service programme."
Richard Edington added: "The weather on the day couldn't have been better and everyone who turned out got a real buzz from the outing."
After first meeting at the dealership for early morning bacon rolls, the seventeen car convoy then roared off to the pre-prepared 117 mile route through the surrounding countryside, stopping off at the famous Innerleithen Golf Club for a chat and later, at the attractive Broughton Tea Rooms for refreshments, before returning to the showroom in the early afternoon.
Delighted GT-R owner and Alex F Noble customer, Brian Hunter, said: "Many thanks are due to John, Richard and the team at Alex F Noble Nissan for arranging the day. It was good to meet some new faces and chat about our experiences, as well as our shared enjoyment of these superb cars.
The run was excellent and great to see everyone having a good time."
Fellow GT-R owner and 350Z enthusiast, Alex Thoms, perhaps summed up the day best. He said: "To say the day was a hoot is an understatement as I know everyone who attended, loved it. When's the next one?"