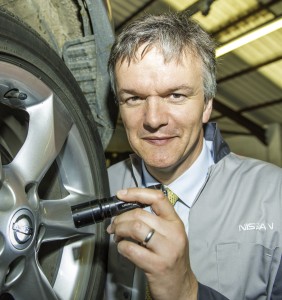 AN APPRENTICE at a Borders car dealership has been shadowed by an unusual work experience candidate…the Secretary of State for Scotland.
The Rt Hon Michael Moore MP worked alongside technicians at Dalgleish Nissan in Galashiels as part of his campaign to encourage more local businesses to take on apprentices.
The MP for Berwickshire, Roxburgh and Selkirk believes apprenticeships could hold the key to tackling youth unemployment across the Scottish Borders and beyond.
And so he donned technicians' overalls and got his hands dirty to gain an insight into the issues direct from the dealership's second year apprentice, Mark Moffat, and Dealer Principal, Scott Dalgleish.
Speaking afterwards, Mr Moore said: "It was great to be able to shadow Mark and to see first hand the skills he is developing through the apprenticeship scheme.
"Apprenticeships are an excellent way of tackling youth unemployment because they enable young people to receive the training they need to break into the job market.
"Over the next few months I will be working with local businesses and other stakeholders to try and encourage more and more businesses to follow Dalgleish's lead and take on an apprentice."
Dalgleish Nissan Dealer Principal, Scott Dalgleish, said: "It was certainly unusual to see somebody of the calibre of the Secretary of State getting stuck in. I'm not sure I'll be offering him a job though.
"Apprentices are a very important part of the employment mix for businesses such as ours and so anything that encourages more people to take the apprenticeship route into a career has got to be welcome."