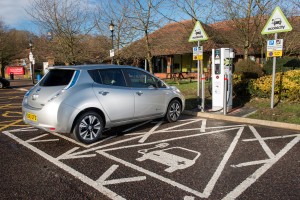 A THOUSAND CHAdeMO quick chargers have now been installed in Europe.
The newest charger is at the Roadchef Clacket Lane Services in Surrey.
The fast-charging unit can recharge the batteries of compatible electric vehicles – including the 100 per cent electric Nissan LEAF – from zero to 80 percent charge in just 30 minutes, and at zero cost.
The installation of the fastest type of chargers dramatically increases the uptake and usage of electric vehicles. In Norway, Europe's biggest EV market, the number of electric vehicles using the E18 highway increased eight fold in an 18-month period after a CHAdeMO quick charger was installed on the route.
The new charger has been installed in collaboration with Ecotricity, a UK green energy specialist and pioneer in electric vehicle charging. The location south of London on the M25 motorway, one of the busiest in Europe, allows drivers who have arrived from the west of London easy access to Kent and onwards into Europe.
Director of Electric Vehicles, Nissan Europe, Jean Pierre Diernaz commented: 'This is a huge landmark for zero-emission mobility, allowing a range of EVs, including the Nissan LEAF and forthcoming Nissan e-NV200 electric van, to quickly extend their journeys.
Electric corridors
'The UK charging network is expanding rapidly and through our partner Ecotricity, customers are able to "refuel" their car for free with wind and solar-generated electricity.'
This latest charger is part of a network of 195 chargers in the UK, which is forming electric corridors across the country, linking major towns and cities.
In the UK, Nissan has been working with partners including IKEA, Moto, Roadchef, Welcome Break and Nissan dealers to create this rapidly growing network with 124 quick chargers installed in 2013.
The rate of installation of CHAdeMO quick chargers across Europe rose sharply in 2013, hugely increasing access for Nissan LEAF customers. In 2010 there were just 16 quick charging points.
This rose to 155 a year later and 540 in 2012. The 1,000 mark in 2013 will be dwarfed by the end of 2014 with over 1,800 quick charger points expected.
Together with Nissan, investment in this Euope-wide development of infrastructure comes from a multitude of partners in the energy field, including the Swiss multinational power company ABB, French quick charger manufacturers DBT, and the Portuguese EFACEC Corporation, leaders in the electromechanics field.