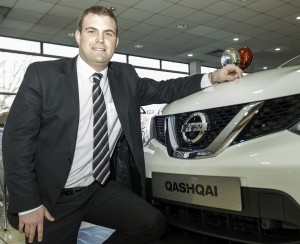 EXETER'S award-winning Nissan dealership has been overwhelmed by the level of demand for the all-new Nissan Qashqai.
The stunning British-built crossover – What Car? magazine's Car of the Year 2014 – only arrived at JFE Nissan on the Marsh Barton trading estate last Tuesday before being officially launched to customers on Friday evening.
But in less than a week the dealership has taken more than 30 orders and given more than 150 test drives.
The dealership has even taken four orders for the exclusive Qashqai Premier Edition – a luxurious, limited-run model for sale only to owners of the original Qashqai.
And at one point over the weekend, customers were queuing up in the showroom, eager to get behind the wheel of the model, which is priced from £17,995 RRP.
Matthew Holcombe, Dealer Principal at JFE Nissan, said: 'We knew the all-new Qashqai was going to be popular because people have been asking us about it for months but were have been taken aback by the actual level of interest and demand.
'We've had some fairly important model launches here down the years, not least the original Qashqai when it was launched in 2007, but we have never seen anything even approaching this.'
Conquest customers
Matthew added: 'Many of the customers we've had have been committed Qashqai fans looking to trade up to the new model straight away because they've heard how good it is.
'However, the most surprising thing has been the level of conquest customers we've had. People have been trading in things like Mercedes and Volkswagens to get into new Qashqai.
'We've found they've been walking through our doors because they've heard all the hype about the new model and that when they take a test drive they're instantly impressed.'