District nurse Kathryn Todd wasn't sure what to expect when she ordered a new Nissan LEAF via NHS Fleet Solutions.
Never having owned an electric car before, she had a few concerns about making the switch from her trusty petrol-powered runabout to a cleaner, greener way of getting around.
Three months after taking possession, however, Kathryn has been bowled over by electric motoring in general and her Nissan LEAF in particular.
''I love it! It's a great car,'' she said. ''It's so smooth to drive and I like the fact I don't have to head to the petrol station when I'm running on fumes. It's nice having the LEAF charged up in the morning knowing it'll last me all day. All my fears have proved unfounded.''
A reliable and economical mode of transport is essential for Kathryn. In her role working for the South Tees Hospitals NHS Foundation Trust, she drives up to 70 miles a day covering her patch of Redcar and Cleveland.
Her Nissan LEAF, equipped with a high-performance 40kWh battery, can travel up to 168 miles on a single charge – easily enough to cope with her daily duties.
So how did her first foray into electric motoring come about? And why did Kathryn decide to obtain her LEAF via the NHS Fleet Solutions salary sacrifice scheme?
''I had a petrol-engined car previously and the benefit-in-kind payments were substantial,'' she said. ''As well as the monthly lease payments, I had a heavy tax burden. As it's 100 per cent electric, the BIK was previously 0% and remains very low at only 1%. Beyond that, I pay my Fleet Solutions lease fee and that's it.''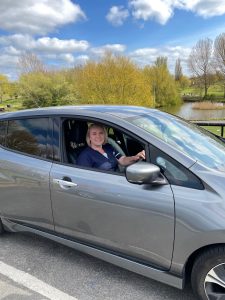 Kathryn added: ''Everything is included apart from the electricity needed to charge it up and I also receive a small mileage allowance from the Trust. I used to spend at least £150 a month on petrol and I'd get about £60 back, but with my electric car, I'm closer to breaking even.
''I charge it overnight to obtain cheaper electricity – and of course, with a petrol or diesel car, you can't do that. It's the same price whatever time of day you refuel.''
The expense involved in running her previous car, and a desire to do her bit for the environment, led Kathryn to examine the EV offers available via the NHS Fleet Solutions website.
Having identified three main contenders, she checked out some online reviews and LEAF came out on top. Decision made!
Electric motoring aside, there's another reason the NHS Fleet Solutions salary sacrifice scheme appeals to Kathryn – peace of mind.
She explained: ''My work involves me doing between 4,000 and 5,000 miles a year on business. Occasionally, mishaps occur – maybe a bit of vandalism, a puncture, scrapes and things like that.
''The Fleet Solutions scheme includes insurance and all necessary repairs. If I ring them in the morning and say my car's been damaged, they'll get a courtesy car out the same day and mine will be repaired. They'll just collect it and let me know when it's fixed.''
Smart and sporty
Kathryn's Nissan LEAF also comes into its own when she's not working.
''I have a young grand-daughter and it's ideal for taking her out and about,'' she explained. ''There's plenty of space in the boot for her pram and her other bits and pieces. I fact I was amazed at how big the boot was!''
And there's no denying LEAF is easy on the eye. ''You wouldn't know it was an electric car unless you examined it very closely,'' said Kathryn. ''It's very smart and sporty.
''When it turned up, I was like, 'oh my word, it's lovely!' It looks a lot nicer than I thought it would. A few of my colleagues have been checking it out and some of them will definitely be switching to electric motoring moving forward.''
Her favourite feature though? ''It's really fast! I really did not expect an electric car to fly about like it does. My LEAF is really nippy and I love the fact that it's nice and quiet. I just really like the whole car. This is my first electric vehicle and I'll definitely be getting another one.''