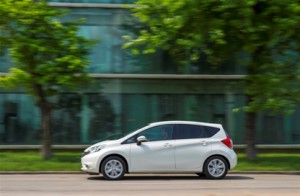 NISSAN GB managing director Jim Wright believes the next six months could be the most important for the brand in years.
With the launch of new Micra, Note (pictured) and Qashqai all coming in quick succession, Jim believes dealers need to be on top of their game to ensure they make the best of some brilliant new products.
'This is the most important time in my memory for Nissan,' he told Nissan Insider. 'We have some fantastic new cars coming, but we need to do it properly. I'm extremely optimistic about the opportunity we have before us – we've been spending a lot to promote these new cars – and we have to make the most of them.'
Jim said the coming weeks are going to be key if Nissan is to achieve its market share ambitions and build on a very steady year for the brand in the UK.
'Dealers are going to have a lot of balls to juggle and it's vital they're on form. It's about mining databases and ensuring they have the right launch activities in place to support the new cars,' he added.
Jim revealed that it's likely new Note deliveries will start arriving in the third week of September – and that will come as welcome news for targets for the month. Note has already banked 1,400 orders – in line with plan – while Micra has 3,500 orders for September, two thirds of the target.
Launches
'Good launch events are vital,' said Jim. 'I attended one at Chorley Group when we toured the Micra and Note and I was extremely impressed with the quality of the attendees. It was clear they had been qualified properly and there was a real buzzing atmosphere around the event.
'I heard they sold 19 cars off the back of that event and that's because they qualified the customers, got them there and followed the leads up. More dealers need to be doing this.'
Jim said NMGB had some important things it needed to get right in this crucial period too – and promised dealers he'd be ensuring his team would be supporting them as they gear up for a busy September.
'We're aiming for six per cent market share in 2015 and that's achievable,' he said. 'Look at the success we've had and that's been without the new products we have now. We all just need to keep our foot to the floor.'