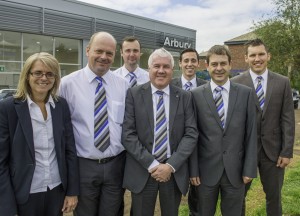 NISSAN'S first dealership in Leamington Spa opened for business today.
Arbury Nissan, which occupies a prominent position on Tachbrook Park Drive, boasts a light and airy seven-car showroom where customers can view the latest models in comfort.
The dealership also acts as a specialist 4×4 centre and benefits from an electric vehicle rapid charger.
Angus Wiseman, Dealer Principal, said: 'If you want to buy a car in this area, Tachbook Park is the place to come and so we're delighted to be bringing Nissan to such a prominent spot.
'Our aim will be to become the premier destination for Nissan in this part of the world and to offer our customers the highest levels of service and the best possible experience of the Nissan brand.'