Nissan Insider reports
from Madrid
MOTORING journalists from across the UK have been getting to grips with the brand new Nissan Qashqai.
The Japanese company hosted the launch of the second-generation crossover in the metropolitan city of Madrid, Spain. And it was here some 50 leading motoring writers had the chance to be among the first from the UK to try out the car.
Using an assortment of busy city routes and fast, sweeping country roads, the journalists were able to put the British-built crossover through its paces.
Available for test drive were different trim and engine specifications including the new 1.2-litre and 1.6-litre diesel Tekna versions, and the 1.5-litre Acenta version – the predicted best-seller in the range.
A worthy successor
First impressions were good with many journalists commenting favourably on the new car's evolutionary styling, premium interior and clever safety technology. Some writers suggested the new Qashqai is a worthy successor to a car that was truly groundbreaking.
At the coffee stop half-way through the day's events, the writers were able to compare the new Qashqai against the first generation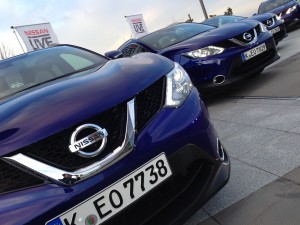 ar and its 2010 revised version. It was a strong symbol of the car's evolution and how successful the car has been since its introduction in 2007.
More than 1.7m Qashqais have been built at Nissan's state-of-the-art factory in Sunderland with 250,000 cars finding buyers in the UK.
In fact, the new car's arrival in February is well-timed as the car is still a hot buy among UK customers. 2013 was a record year in Qashqai sales with nearly 50,000 vehicles sold.
The launch came just hours of the new Qashqai winning the prestigious What Car? Car of the Year 2014 award .
Check back on Nissan Insider soon to read exactly what the UK's motoring journalists think of the new Qashqai.