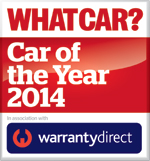 NISSAN GB Managing Director Jim Wright has spoken of his delight that new Qashqai has scooped the prestigious Car of the Year Award from influential motoring magazine What Car?
And he's convinced that the accolade will help sales get off to a flying start.
He told Nissan Insider: 'The first time I saw new Qashqai I knew it was a winner. Nissan invented the crossover segment with the first incarnation of the car and over the years it has been much imitated but never bettered.
'This all-new version really raises the bar. And the positive buzz around the car will only help to increase our chances of recording really impressive volumes in the weeks and months ahead.'
In recognising new Qashqai as 'a very worthy Car of the Year', Chas Hallett, Editor-in-Chief of What Car?, said: 'It has an interior worthy of its stylish looks and it makes a fine family car. It's fantastic value for money.'
A great message
Another factor that will help raise new Qashqai's profile this week is the fact that more than 50 of the UK's leading motoring writers are getting behind the wheel at a special launch event in Spain. Their reviews will be appearing in print and online shortly.
Jim said: 'Naturally we hope the journalists will be impressed. I'm sure they will be. In the meantime, for Qashqai to take a Car of the Year title when we're only into the second week of 2014 is quite an achievement and a real feather in our cap.
'It's a great message that dealers can communicate to potential customers and will help us hit the ground running.'