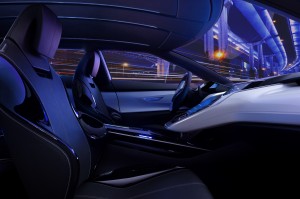 NISSAN has revealed its Friend-Me concept, a four-passenger sedan designed for a generation with a very different automotive outlook.
With an assertive, imposing exterior featuring boldly flowing sculpted lines, Friend-Me is a confident creature of the night, meant to be seen in bright city lights.
The concept is applicable globally, but the genesis of Friend-Me was Nissan exploring the aspirations of customers destined to emerge as the world's largest single market segment: the 'Bālínghòu,' as around 240 million Chinese born in the 1980s are known.
Specifically, Friend-Me addresses the social dynamics of Chinese men in their mid-20s.
'Bālínghòu males are a huge cohort in the world's largest market, and they're now reaching their prime,' said François Bancon, Division General Manager of product strategy and advanced planning at Nissan.
'Clearly, their tastes will shape automotive trends worldwide for decades to come. So we believe it's important to listen with respect, and respond by putting dreams within their reach.'
For a generation that grew up without siblings, leisure time shared with peers is treasured.
Edgy but well-mannered
This car asserts an imposing presence – solidity and flowing lines give it an edgy muscularity.
A low and wide stance with short front and rear overhang emphasizes more chunky, aggressive and sporty impression rather than authentic sedans. Together with this challenging proportion, distinctive design aspects are presenting one of the new directions of Nissan appearance.
'Oracle stone' is empowering
Inside, front and back, driver and passenger, all four seats are separate with the same high-tech style and status, because in this cabin all aboard are peers – equals. And all share the same information as the driver: speed, navigation, fuel remaining – everything.
Empowering all four adventurers is a unique centre console stretching from the dash to between the rear seats – an iconic monolith in an onyx-black finish. Screens visible from each seat blend seamlessly with the surface, only becoming apparent as they display whatever contents the buzz of the moment demands. Whoever finds cool content can transfer it from his mobile to the on-board screens so all can share in the fun.
A dream within reach
Nissan Friend-Me has been carefully designed as a dream within reach of young customers in China. Based on an existing Nissan sedan architecture, it requires a minimum of unique components. The ecologically efficient PureDrive hybrid powertrain envisioned for Friend-Me would deliver more than enough zip for city driving.
Friend-Me is one of many in-depth explorations of China's customer needs and aspirations now underway.
'If there's one thing we want Nissan to be known for, it's uniquely powerful insight into what excites and delights customers across China,' said Bancon. 'Friend-Me is just the beginning.'