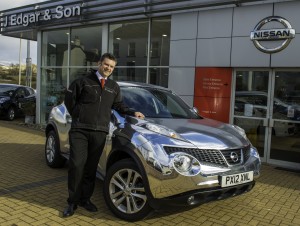 A CUMBRIA car retailer has been inundated with enquiries from motorists keen to buy a stunning one-of-a-kind chrome-effect Nissan Juke.
J Edgar Nissan in Rowrah commissioned the eye-catching crossover to draw the crowds at external shows and exhibitions.
But the family-run dealership has since been bombarded with offers from people not content simply to admire the striking model.
Dealer Principal, Jason Edgar, said: 'From the moment we first displayed the car we've had people walking into the showroom and phoning us to say they want to buy it.
'The response has been incredible. It's certainly struck a chord with a lot of people.'
Based on a standard Nissan Juke – the popular compact crossover priced from £14,695 – J Edgar's unique model has been expertly wrapped in a special chrome style foil that gives an overall mirrored effect.
And that gives the already stylish Juke even greater kerb appeal and helps it turn more heads than usual.
Jason said: 'The original idea was to help us promote the car at various shows we were taking part in and it certainly worked.
Have a proper look
'Wherever we took the car it looked fantastic, stood out from the norm and drew a crowd. Even now people are well used to seeing it parked up and driving around the local area you can still see people straining their necks and turning around to have a proper look.'
But despite the interest in the model, Jason has no plans to sell it.
He added: 'We're delighted the car had grabbed people's attention but it was never our intention to sell it.'
Our picture shows J Edgar Nissan's Dealer Principal, Jason Edgar, with the dealership's in demand one-of-a-kind Nissan Juke