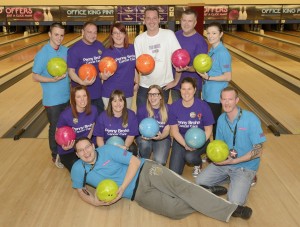 BRISTOL folk turned out to a 24-hour bowl-a-thon last week and have so far helped raise more than £1,000 for a charity in the city.
Wessex Garages organised the event at Hollywood Bowl at Avonsmead, St Phillips Marsh from 9am on November 7 until 9am on November 8 in aid of Penny Brohn Cancer Care
Adam Davis, Digital Sales Executive at Wessex Garages on Pennywell Road, said: 'The event was a great success. It was hard work ten-pin bowling for 24 hours but we made it. We were very tired come the end.
'We are still counting the money raised but we know we have collected more than £1,000 for the charity so far, which is fantastic. Thank you to everyone who popped along to support us.
'Three teams took part. We had a Wessex Garages team, a Penny Brohn staff and volunteers' team and a Hollywood Bowl team. All the teams had four players. Ours were fixed players for the 24 hours but the other teams were able to swap team members. We played 29 games and the total number of pins knocked down during the event was 37,038.
'During the 24 hours there were bowling competitions, raffles and sweepstakes. Children could also have their faces painted by Penny Brohn volunteers. All of the money raised was donated to the charity.'
Penny Brohn Cancer Care based in Pill has been helping cancer sufferers and their supporters since 1980. Its 'whole-person' approach combines physical and emotional support designed to help sufferers live well with the impact of cancer at any stage of the illness.
Emma Smith, corporate and community fundraiser at Penny Brohn Cancer Care, said: 'The bowl-a-thon was a fantastic idea for a fundraiser and we would like to thank Wessex for organising it. It was a brilliant event. We thoroughly enjoyed it.
Amazing support
'We would also like to say a special ''thank you'' to Hollywood Bowl for letting us have the lanes and for all its amazing support.'
People can still sponsor the Wessex bowling team via its Just Giving page.
Wessex Garages is a privately-owned company that has outlets in Bristol, Cardiff, Gloucester and Newport. It specialises in new and used car sales across South Wales and the South West.
Adam continued: 'We have established a reputation for honesty, reliability and outstanding value for money and we pride ourselves on passing on massive savings on new and used cars direct to our customers, while still providing an aftersales service that is both friendly and professional.'