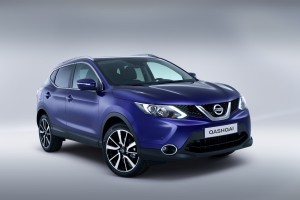 JOURNALISTS from all over the world gathered in London for the spectacular unveiling of Nissan's new Qashqai.
And they heard the company's president and CEO Carlos Ghosn say Nissan is focusing on the future like never before.
Qashqai has been an incredible success story for Nissan with two million units sold worldwide since its launch in 2007.
And naturally the company will be looking to build on that success with the new model featuring a winning combination of premium technology, second generation crossover design and enhanced dynamics.
The striking new Qashqai is 49mm longer than the current model and fractionally lower and wider, giving it a sleek, poised stance while maintaining the crossover style, compact dimensions and raised driving position.
Distinctive features – including a clamshell-style bonnet – lend a premium appearance while retaining the Qashqai's strong visual DNA.
As with any new Nissan, the Qashqai is packed full of innovative technology. It offers drivers a comprehensive suite of advanced technology features enhancing every aspect of driving.
Nissan's Safety Shield technologies now incorporate Front Collision Avoidance, Driver Attention Support and Traffic Sign Recognition along with several other vital driver aids, while Intelligent Park Assist takes the stress out of urban manoeuvres. The new Qashqai is designed to make premium technology more accessible than ever.
Excellent performance
The innovation continues with the new Qashqai's powertrain range, which is wider and more efficient than ever. Every engine uses a turbocharger to reduce capacity, emissions and fuel consumption while maintaining excellent performance with class-leading CO2 emissions – from only 99g/km. Efficiency is further enhanced by an extensive mass reduction programme, resulting in 40kg weight loss on some models despite the extensive addition of new equipment.
While front-wheel-drive variants will account for the majority of sales in most markets, four-wheel-drive ALL-MODE 4×4-i versions will also be available to match a choice of six-speed manual or all-new Xtronic transmissions.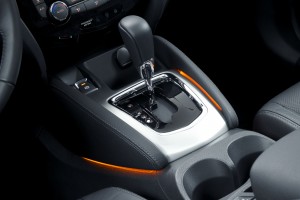 Inside, a dramatic rise in material and design quality adds significant interior appeal to the Qashqai package. Versatility also remains a core crossover attribute; Nissan's engineers have devised innovative ways to make the new Qashqai fit into drivers' lives. Delivering greater occupant space and a larger luggage capacity enhanced by a variable floor system, the new Qashqai even offers space to store the parcel shelf when not in use.
The new Qashqai is based on the new CMF (Common Module Family) Renault-Nissan Alliance platform, bringing outstanding engineering efficiencies to the consumer.
Designed and engineered in Europe, for Europe, the new Qashqai has been created by Nissan's experts at Nissan Design Europe (London, UK) and Nissan Technical Centre Europe (Cranfield, UK and Barcelona, Spain), and it will be built in Sunderland, UK.
Extensive input has also come from Nissan's designers and engineers in Atsugi, Japan.