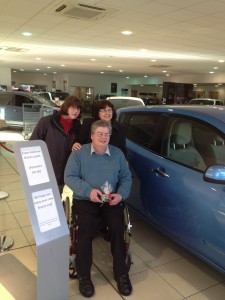 AS regular visitors to Nissan Insider will know, last week was a big one for the all-electric LEAF.
Prime Minister David Cameron visited the company's Sunderland factory for the official start of production of the emission-free car there.
And now we're delighted to report that a Motability customer has taken delivery of a LEAF in what is thought to be the first such arrangement in the UK.
The customer in question was David Idle, who picked up his car from Evans Halshaw Nissan Leeds.
Nicola Dobson, new car sales leader, said: 'Mr Idle and his family collected the vehicle on Good Friday and were really excited to be the first Motability customer to be helping the environment in the 100 per cent electric vehicle.'
Let's hope Mr Idle and his family enjoy their new clean, green car!